I'm currently piloting the latest salvo fired by the Battery Electric Vehicle camp against the internal combustion engine camp and, from where I'm sitting in the driver's seat, Volvo has seemingly hit its mark. On a sun-drenched, winding oceanside road outside of Barcelona, a Model S slows down to get a peek at my Cloud Blue 2024 Volvo EX30. I can't see the driver's face, but you can tell by the way they change lanes; they're jealous.
2023 Range Rover Sport | Quick Drive
(Volvo invited us along with a gaggle of journalists to Barcelona where they fed us an astonishing amount of ham before allowing us to drive both the single and twin motor versions of the 2024 Volvo EX30 for a day and a half.)
Volvo is headed for a fleet of battery electric vehicles by 2030 and aims to be climate neutral in its manufacturing a decade later. Unlike other automakers and even entire countries, Volvo is full steam ahead on battery vehicles (to mix both metaphors and drive trains.) With the EX30, Volvo does what American automakers seemingly refuse to do; sell an affordable, attractive electric car that's got environmental bona fides beyond just what's between its tires. But it's not just affordable; it's desirable, even enviable.
What Is It?
The EX30 is a subcompact, "premium" electric SUV that's actually affordable, available worldwide, and holds a charge that could satisfy even the twitchest of range-anxious EV curious buyers. It's such a unusual product that Volvo says it's not just cornering the segment, it's creating it. With a starting MSRP of $34,950 (plus $1,295 destination charge), no other compact EV SUV even comes close to providing that kind of range for the price.
You can get the EX30 in either single motor or twin-motor configurations. The 428-horsepower EX 30 Twin Motor Performance gets Performance All-Wheel Drive while the single motor version just powers the rear wheels. The Environmental Protection Agency estimates that the 268-hp EX30 Single Motor Extended Range will deliver a respectable 275 miles per full charge with a top speed of 112 mph. The motors are 200 kW with max torque of 253 lbs-ft. The 69 kWh battery charges to 80 percent in a little under half an hour at 153 kW DC charge rate. The single-motor EX30 comes in three trims; Core, Plus and Ultra. You can also get the Twin Motor Performance in Plus and Ultra, with the trims levels topping out at $46,600.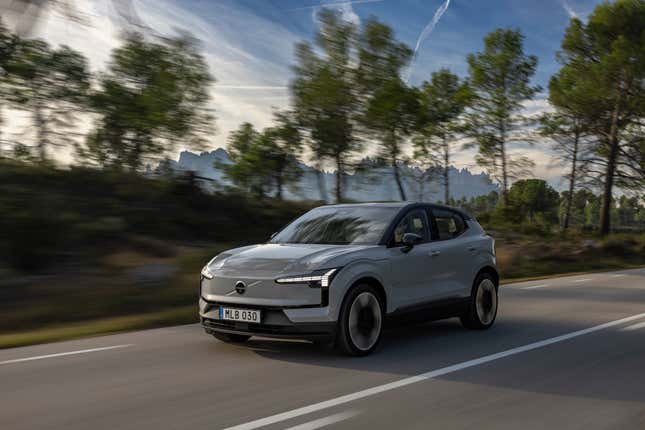 We tested both the single motor and dual motor EX30 in the Ultra trim, but the base Core model still holds plenty of interest for buyers. This is Volvo, so even the Core single-motor version comes with a hefty suite of safety features like Open Door Alert and Driver Awareness (more on that later.) Bumping up a branch on the EX30 trim tree gets you some fancy toys, like a digital key on your phone, fixed panorama roof and 19" wheels, but it's basically the same vehicle.
The Ultra we tested, comes with everything already mentioned, but tacks on Pilot Assist, Volvo's Advanced Driver Assistance System, Park Pilot Assist and 360 camera with 3D view. All fun functions for sure, and after taking it for a spin, the Pilot Assist is worth the extra ten grand here.
The Good Stuff: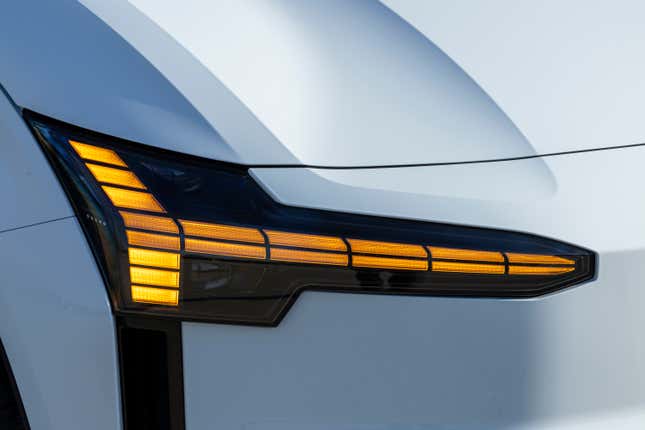 The exterior design is undeniably from The Future, with its digital-looking Thor's Hammer headlights and deep cut lines. Can't forget that black roof as well–just one of many features actually designed to cut down on the environmental impact of making the car – painting all the roofs black helps reduce paint use.
It is an incredibly smooth, quick and quiet drive, as you'd expect from any modern electric car. The single motor version is more than enough for anyone's needs, zooming from a dead stop to 60 mph in 3.4 seconds in case you're looking to drag race other parents out of the school pickup parking lot. Despite adhering as much as possible to posted speeds and using the European-required Intelligent Speed Assist for a few miles, I'm certain the ever-present Spanish speed cameras have me on the hook for a few Euros. Totally worth it.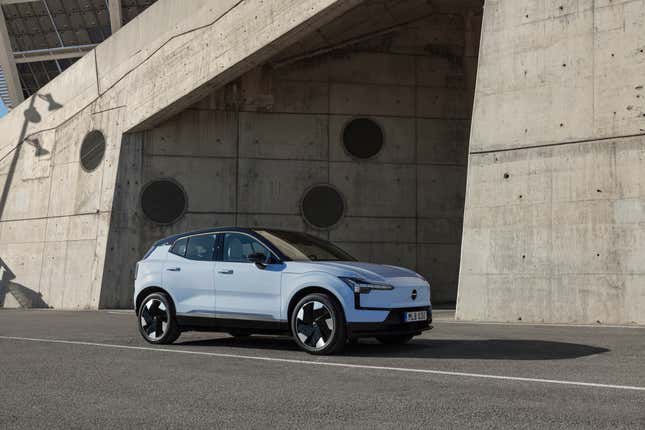 Steering was quick and responsive. In the Twin-Motor version, I was unable to try out its Performance All Wheel Drive because you can only use it when the car is charged above 80 percent and I never managed to snag one with that much juice.That speaks to how quickly the Performance AWD can burn through the EX30's range. However, I don't feel like I was missing out; 268 hp was plenty, and it's not like we were on rough roads or driving through inclement weather. After four hours of journalists dragging both the single motor and twin motor EX30s up and down winding mountain roads, across open freeways and through busy stop-and-go traffic, our car still had 44 percent of its charge left to go by the time we wrapped up our drive.
That smoothness and impressive range may be owed in part to the fact that I very rarely needed to touch the brake thanks to a natural and smooth regenerative braking system. I took the first round of driving, and when my driving partner got behind the wheel he actually overestimated the regen braking's stopping power after we switched seats. Once he got the hang of it, we both smoothly one-pedaled our way across Catalonia.
With its relatively light weight (3,858 for the single motor and 4,140 for the twin) plenty of renewable and recycled materials inside and out, and an eye on what will happen with the car at the end of its life, this is an EV that lives up to its green bona fides. The EX30 trims and colors dictate what interior options you can choose from, but it boils down to four different options for the interior as well as four different seat options. Each comes with two options from recycled and two from renewable resources. Around 30 percent of the interior uses recycled or renewable materials, according to Volvo.
That doesn't mean the EX30 feels like it's cobbled together from waste, however. It's an affordable EV that feels much more expensive than its price tag. Volvo did this by leaning hard into renewable materials. The interior options are beautiful and thoughtful no matter what trim you choose, with a lot of effort being put into making everything–seats, carpets, and hard surfaces–-out of sustainable materials.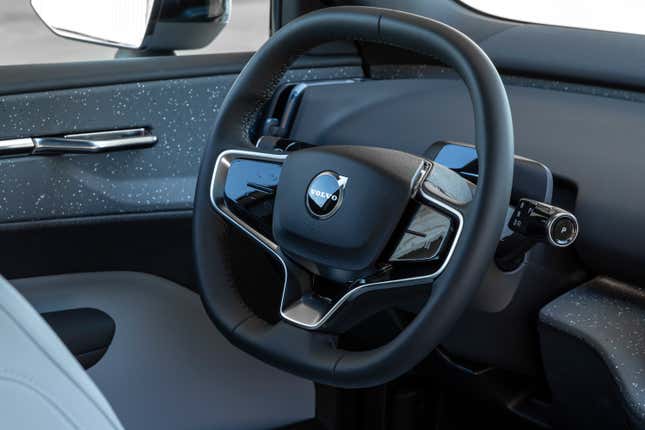 The hard plastics are considered "unfinished" but it's more like they're uncoated. Car plastics are not normally recycled because of the coatings and paint automakers apply are too difficult to strip from the usable plastics. So off to the wrecking yard they go. Volvo took two approaches to the materials used inside the EX30, focusing on recycled and renewable.
Much of the interior of the first Single-Motor EX30 I drove used a plastic product that wasn't previously being recycled, and had been treated for UV resistance, window frames and shutters, and turning that waste product into the dashboard and molded door panels. The plastic in the "Particle" interior featured lovely multi-colored flecks which manages to feel colorful and modern as well as a bit nostalgic; like a '80s formica countertop or a fuzzy Donegal wool sweater. You can also get a dash made out of old blue jeans fluff or another interior, made up of flax which is laid into an interesting cross-hatch pattern, giving the flat surfaces a lot of dimension and texture. Burlap isn't just hot for rustic weddings folks!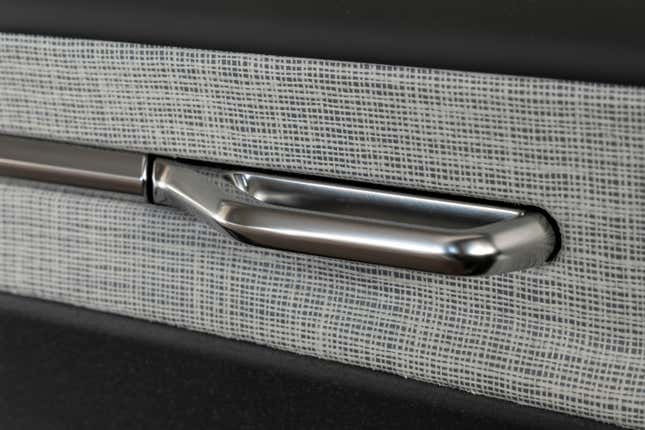 The seats are made of recycled polyester, and mixed with wool, blue jeans or pine fibers. Black plastic is unfinished, and has this multi-faced look reminiscent of Scandinavian granite. All of these colors, from the dark blue jean plastic to the white recycled polystyrene interiors, are pretty damn lovely. The headliner and carpet, the largest pieces in any car interior, are made from 100 percent recycled materials.
The interior mood lighting is also charming, and comes in five Scandinavian-themes which are entirely on-brand with accompanying calming sounds or cool electronic vibes and animations on the center console. It strikes me as the perfect feature for folks who unwind from a long day during their commutes or need a quiet place to breathe through being overstimulated.
A special shout out is required for the coolness of the air vent design and the floating arm rests set into the doors. The vents are controlled via a vertical switch that runs in a narrow vertical band and uses frosted slightly greenish and clear plastics to give what is usually a simple, overlooked part of a car an Art Deco jewelry quality. Flat tabs allow the driver and passengers to direct the flow of the air. Plus both the driver and passenger get a floating arm rest with mood lighting underneath that's actually comfortable. Both features are just so neat.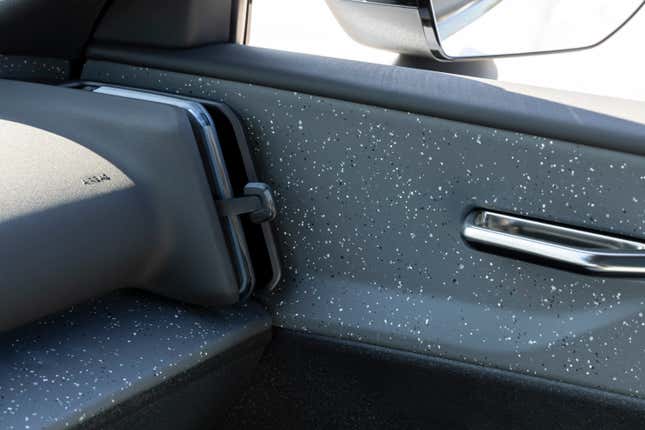 The center console extended to reveal two cup holders, which handled a few extra wide water bottles with ease. The holders then disappeared with an easy push, maintaining the clean, simple aesthetic of the vehicle without sacrificing the creature comforts. The fixed panorama roof made the subcompact feel more expansive than the name of its segment suggests, especially from the roomy back seat. Designers used bright colors at the bottoms of the center console's many storage compartments in order to make it easier for folks to find dark colored objects.
Pilot Assist is impressive. It's a level 2 system, and Volvo is too safety focused to let you get away with no hands on the wheel for very long, but it's an impressive system nonetheless. Human-brain powered driving in busy Barcelona traffic was a cinch; the car maneuvered deftly and even has a fun function that warns you just how close the devil-may-care scooter riders come to your car (the closest one got to me was 36 centimeters.)
Could Be Better: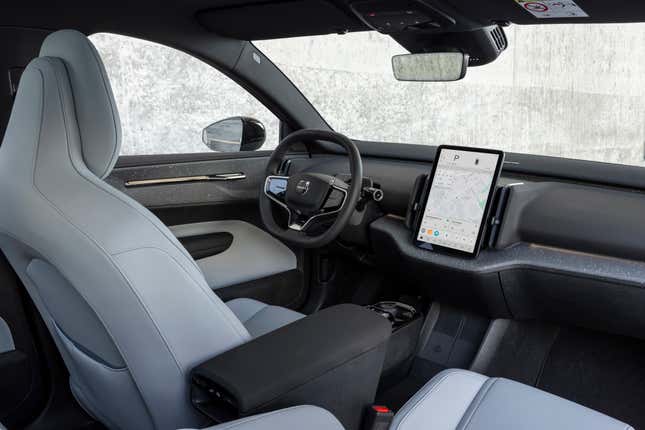 This is a car that has forsaken the traditional dash for a 12.3-inch tablet style touchscreen. Partially done to keep wiring to a minimum in order to meet Vovlo's sustainability goals, the tablet comes with all the apps and menus you love to hate. And with no heads-up display option, EX30 drivers might find themselves searching the screen for vehicle information like speed, battery life and whatever the most recent ping is trying to warn you about. My eye was drawn down and to the left, leaving traffic entirely. Of course, Volvo has a million ways to keep a car on the road but it's still a little disconcerting to not have that information front and center. After hours of use, I still wasn't quite used to it, though I'm sure I'd gain confidence with time.
It's a Volvo, so safety is first, second, third and maybe even fourth. That means beeps. Lots of beeps. Beeps for exceeding the speed limit. Beeps for speed limit changes. Beeps for traffic surround your vehicle too closely–a constant on Barcelona streets.
Lane keeping assistance was abrupt and often unwarranted when not in Pilot Assist, pulling the car in weird directions in the driver's hands especially on the curving mountain roads outside of Barcelona. Yes, you can navigate through multiple screens and turn off all of these beeps and jerks, but when my drive partner and I set out we had them all engaged to get the full Volvo experience… and we became overwhelmed pretty quickly. It was difficult to figure out which alert was for what. It took us a good 45 minutes to figure out the car was alerting us to every speed limit change. When I made over-exaggerated fake yawns to trigger the Drive Awareness feature via a camera mounted on the steering wheel, the car alerted me that I was showing signs of exhaustion, but the alert appeared as small text in white on a gray box on the center-mounted touchscreen. If I was tired, such an alert would be a little distracting to interact with. If the car is alerting me to something, it's serious and I want the cause to be a bit more in my face. I found myself longing for a bunch of light up symbols to appear in front of my face. I could see running a real risk of tuning out the symphony of alerts.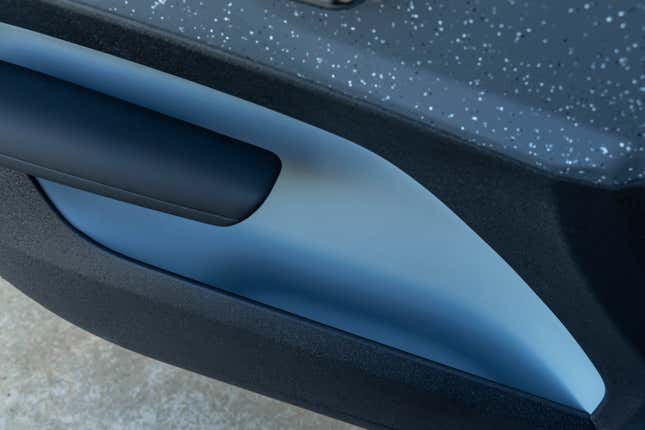 While this is considered a luxury vehicle, some creature comforts have fallen by the wayside for that sweet $34,950 MSRP. The sound system is "sound bar" along where the windshield and dashboard meet. The idea was that anything coming from the bar would bounce off the windshield and lead to a richer sound, but my driving partner and I were almost immediately aware that sound was coming from a single speaker, leading to a loss of depth of sound in the few songs we played. There are two much smaller speakers in the back on the doors, but passengers are still not exactly rocking in the free world.
It also definitely puts the sub in subcompact when you take a look at the storage capacity. This is a grocery getter, not a vehicle suitable for say, hauling around hockey equipment. Not that every car needs to accommodate a ton of junk in the trunk and frunk, all told the EX30 crams in 46 cubic feet of storage.
Conclusion
Six percent of car sales in the U.S. were EVs in the last quarter. We seem to be reaching a tipping point, where EVs spill over from early adopters to the general public. But in recent months, we've heard a lot about how EV sales are crashing and burning in the U.S. I truly believe that's not because there isn't any interest in EVs, it's because our EV pickings are so slim. Customers who are ready to take the plunge on something reasonable, affordable and applicable to the average American life have a lot of $70,000+ EV trucks, SUVs, and sports sedans to choose from and not much else.
It seems Volvo is prepared for the EX30 to fill the niche that so many automakers have overlooked. The orders for the EX30 so exceeded Vovlo's initial estimation that a second factory is coming online to satisfy the American and European market. The avalanche of orders is warranted; this is the car we–normal people with regular wants and needs–have been waiting for. The EX30 is a car that, at every turn, makes sense. This is a car that can finally bridge the gap and make EVs normal.
Denial of responsibility!
News Continue is an automatic aggregator of the all world's media. In each content, the hyperlink to the primary source is specified. All trademarks belong to their rightful owners, all materials to their authors. If you are the owner of the content and do not want us to publish your materials, please contact us by email –
[email protected]
. The content will be deleted within 24 hours.