The first orders went out before 4am: anyone who had been attending the regular training sessions and was not planning to attend dawn prayers at their usual mosques must go to pray.
An hour later, as the sky began to lighten over Gaza and the congregations began to disperse, new instructions were issued. These too were straightforward and passed mainly by word of mouth: bring your weapons and any ammunition you have and assemble at specific landmarks.
But still no one was told what was about to happen. Operation al-Aqsa Flood, the most ambitious operation launched by Hamas since the extremist Islamist organisation had taken control of Gaza in 2007, was still a secret.
The plan had been formulated by a handful of hardened, veteran Hamas leaders and was still unknown to the men whose violence was about to shatter any passing sense of calm or progress towards a new stability in the Middle East. It was unknown, too, to Israel's much vaunted military and intelligence services.
The decision to pass instructions verbally to thousands of Hamas militants scattered among Gaza's 2.3 million inhabitants was the latest in a series of measures designed to deceive one of the most potent surveillance systems in the world and keep any word of what might be about to happen from a network of spies.
The instructions spread across Gaza in a cascade, given first to the commanders of the "battalions" of a hundred or more, then to leaders of platoons of 20 or 30, who told the squad commanders at the head of a dozen, who passed the message on to the friends, neighbours and relatives who had joined them at the twice weekly drills held in dozens of locations in the enclave.
Only when the men had assembled was extra ammunition and more powerful weaponry distributed. Many had handled such arms over previous months and had returned them to Hamas's arsenals after each lesson. Soon they were carrying hand-held and rocket-propelled grenades, heavy machine guns, sniper rifles and explosives.
It was now 6am. The sun was up and the final orders were issued. Now, these were written down: the men were to rush through gaps that would soon be blown or smashed through the $1bn perimeter fence around Gaza and attack Israeli soldiers and civilians on the other side.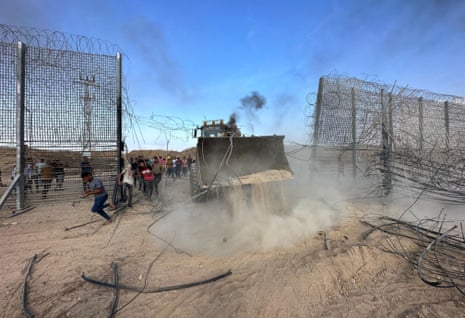 This account of the early moments of the 7 October terrorist attacks in Israel is derived from multiple sources, including meetings with Israeli intelligence officials, experts, sources with direct knowledge of interrogation reports of Hamas fighters captured during the attacks, and material released by Hamas and the Israeli military.
Though many claims are difficult to verify and have been contested, respected and independent experts on Hamas have described the account as plausible.
It underlines the scale of the planning behind the operation and partially explains the multiple failures of Israeli security forces that led to the deaths of 1,100 of their civilian compatriots and 300 of their comrades in arms.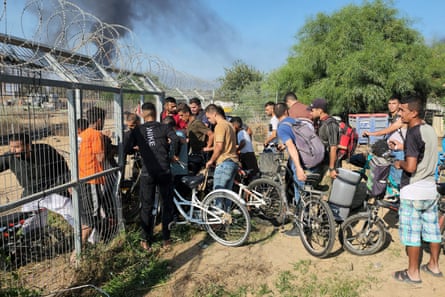 One factor was the sheer number who came through the fence – some sources say as many as 3,000, including members of Palestinian Islamic Jihad (PIJ), an allied but independent faction that was not told in advance of the attacks, sources said, but joined once aware of the breach of the fence. Civilians also poured out of Gaza in the general chaos, emboldened by the slow response of Israeli security forces.
Written orders explained to Hamas units a precise plan drawn up by two men believed by Israel to have been the main planners of the attack: Yahya Sinwar, the overall head of Hamas in the enclave, and Mohammed Deif, the commander of Hamas's military al-Qassam brigades and elite Nukhba squads.
Each unit was given a separate objective: a military base, a kibbutz, a road or a town. Often their orders were accompanied by maps showing details of defences and key locations within their targets, drawing on information derived from sympathisers working in Israel, the sources claim. The rave at which 260 people died was not among the initial targets, it is thought.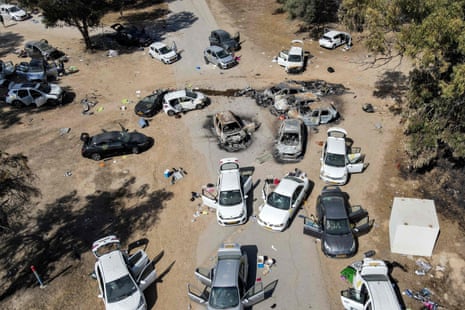 Three tasks were given to different units. A first group was ordered to overwhelm the undermanned and unprepared Israeli military bases around Gaza, or to attack civilians in their homes.
Hamas has blamed much of the violence on civilians – and atrocities including rape and torture – on "criminals" who followed its attackers. The Israel Defence Forces released an interview with a captured attacker who said the "mission was to kill … anyone we saw". The attacker then described shooting children.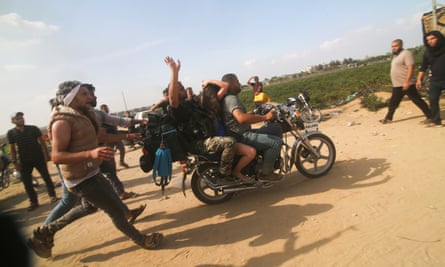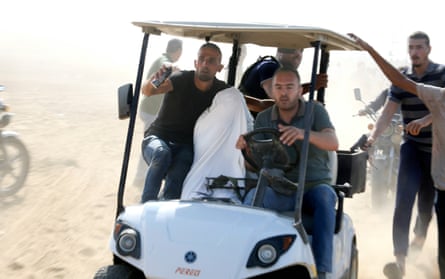 Other units were ordered to defend positions against Israeli military forces when they came, often with ambushes on key roads. This was not a suicide mission, as the death of the attackers was not an integral part of the operation, a point of Islamic law that the planners of the operation had carefully considered, the sources said.
A third set of units were detailed with seizing as many hostages as possible and bringing them to the gaps in the fence where dedicated squads were waiting to take the hostages into the vast tunnel complex under Gaza. This is where more than 240 people, including infants, children and elderly people, as well as military personnel, are believed to be held. So far only four have been released and one rescued.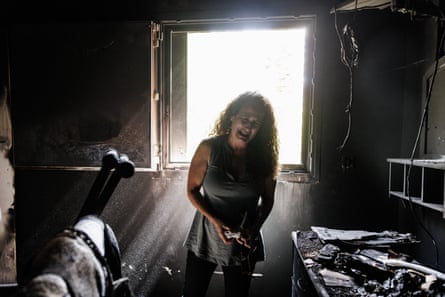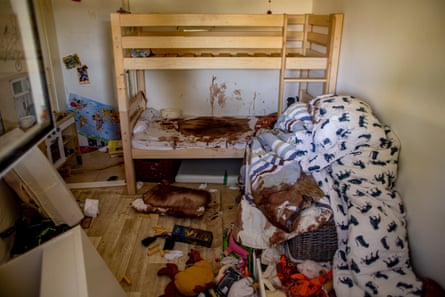 Israeli security officials believe that Hamas's political leadership overseas was not told the details of the operation, and nor were Hamas's sponsors in Iran, though both were probably aware that something was being planned. "It was a very tight circle," a source close to Hamas told Reuters last month.
Hamas officials have said planning for the attack began two years ago, after Israeli police raids at Jerusalem's al-Aqsa mosque, Islam's third holiest site. Israeli sources say the timescale was shorter – perhaps a year or 18 months – and that during this period an effort was made to reinforce an Israeli belief that Hamas had switched its focus from violence against Israel to economic development in Gaza.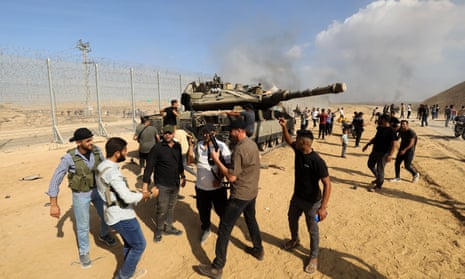 The exact role of different Hamas leaders in the attack is yet to be established, but it is clear that Sinwar and Deif were central to its planning.
Deif means "guest", a reference to the 58-year-old's constant relocation to avoid detection by Israel. A member of Hamas since his early 20s, the former science student oversaw a wave of suicide bombings against Israeli civilians in the early 1990s, and another a decade later. Deif may have been crippled by one of many Israeli assassination attempts, and his wife and young family were killed in an airstrike in 2014. Israeli officials have described Deif, whose real name is Mohammed Diab Ibrahim al-Masri, as "a dead man walking".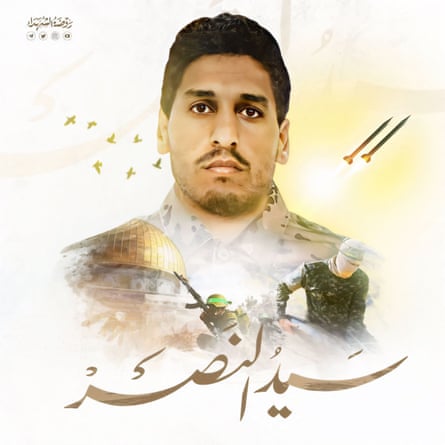 Sinwar, 61, also a founding member of Hamas – an acronym for Islamic Resistance Movement – spent 23 years in Israeli jails for killing Israeli soldiers before being released among more than 1,000 prisoners swapped in 2011 for Gilad Shalit, an Israeli soldier captured by Hamas five years earlier.
In prison, Sinwar refused to talk to any Israelis and personally punished those who did, pressing one person's face into a makeshift stove, according to one Israeli former interrogator in the institution where Sinwar was held. "He's 1,000% committed and 1,000% violent, a very, very hard man," said the interrogator.
On his release, Sinwar said his experience had taught him that capturing Israeli soldiers was the only way to free prisoners. A journalist who met Sinwar a decade ago told the Guardian that the Hamas leader was so focused on this goal that it was like "the world didn't exist beyond his eyeballs".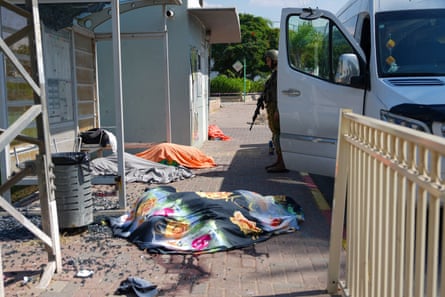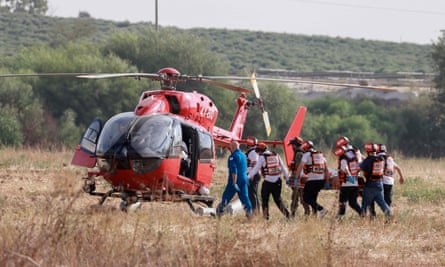 Analysts said other objectives of the 7 October attacks probably included halting efforts to normalise relations between Israel and Saudi Arabia, further undermining the Palestinian Authority, distracting from Hamas's failure to deliver services or break the blockade of Gaza, and provoking a violent reaction from Israel that would mobilise its own supporters in Gaza, the West Bank and elsewhere.
Five days after the attack, a Hamas leader claimed it had been a pre-emptive strike launched after the organisation learned that Israeli forces were preparing a major assault on Gaza after the Jewish Sukkot holiday.
Many experts – and Israeli security sources – said Hamas was surprised by its success. The slow response of Israeli forces enabled some units to make multiple trips into Israel from Gaza to bring back more hostages, Israeli officials said. Some of the civilians who crossed into Israel also took captives, complicating current rescue efforts and negotiations, according to Israeli and Hamas sources.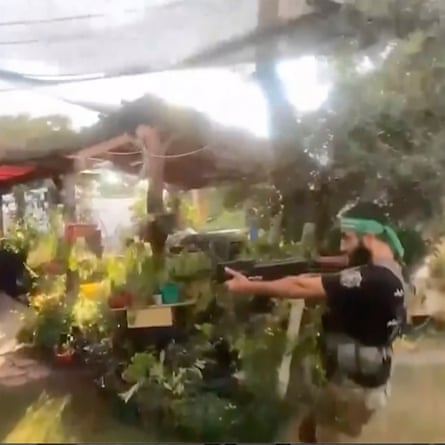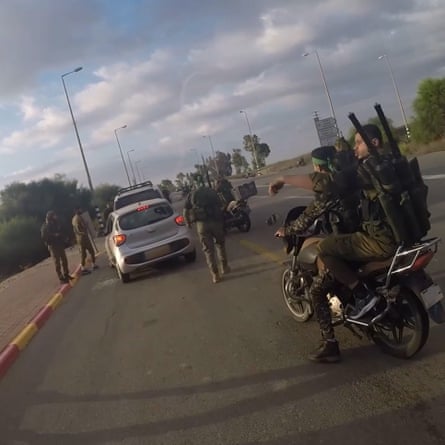 Hamas equipped attackers with GoPro cameras to capture images of the attack. Some of the gruesome images recovered by Israeli investigators show sadistic mistreatment and murder. An official montage of such footage, released by Hamas, shows terrified people pleading for their lives and a pet dog being shot. The release of these images on official Hamas channels suggests that the 7 October attack was at least in part "propaganda by deed", terrorism experts said.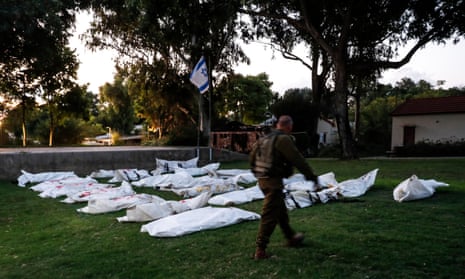 There is no evidence that Hamas hoped to hold territory or spark a wider insurrection, though some were told to fight to the end. Despite this, a significant number gave themselves up. Israeli officials will not say how many, only that these captives have been a useful source of information.
Hamas did order some attackers to retreat as the Israeli forces began to rally, and many senior commanders returned to Gaza. This meant that although many members of the Qassam brigades and Nukhba units died, most of the leaders remained alive. Since then, some have been killed in the IDF offensive in Gaza, which has so far taken more than 9,770 lives, including more than 4,000 children, according to local health authorities.
Denial of responsibility!
News Continue is an automatic aggregator of the all world's media. In each content, the hyperlink to the primary source is specified. All trademarks belong to their rightful owners, all materials to their authors. If you are the owner of the content and do not want us to publish your materials, please contact us by email –
[email protected]
. The content will be deleted within 24 hours.