US secretary of state Antony Blinken has arrived in Turkey amid volatile scenes ahead of talks on Gaza as the US military took the rare step of announcing it had sent a nuclear-powered submarine to the region.
Police in Turkey used teargas and water cannon to disperse hundreds of protesters who marched on an air base housing US forces in Turkey's south-east hours before Blinken's arrival on Sunday ahead of Monday's talks in Ankara with foreign minister Hakan Fidan.
President Recep Tayyip Erdoğan himself plans to travel across Turkey's remote north-east on Monday in an apparent snub of Washington's top diplomat. Blinken has supported Israel while trying to assure regional players that Washington is focused on relieving humanitarian suffering amid the ongoing ground offensive in Gaza.
Erdoğan said on Sunday it was "Turkey's duty" as a supporter of an independent Palestinian state to immediately stop the violence.
Late on Sunday, US Central Command, which covers the Middle East, said on Twitter that an Ohio-class nuclear missile submarine had arrived in the region – an unusual public announcement of a nuclear submarine's position that was seen by users of the platform as a message to Iran.
It did not identify the submarine, but included a picture that appeared to show it powering through the Suez canal.
The New York Times quoted officials as saying the White House had also sent messages to Iran and Hezbollah that the US would be prepared to intervene militarily if attacks were launched against Israel. On Sunday, defence secretary Lloyd Austin reiterated the US position that it was committed to deterring "any state or non-state actor seeking to escalate this conflict".
Tensions meanwhile increased with Lebanon on Sunday after an Israeli strike on a car in the south of the country killed three children and their grandmother, Lebanese authorities said.
Israel's chief military spokesperson said the military had attacked "terrorist targets of Hezbollah in southern Lebanon" in response to a missile attack against tanks that killed an Israeli citizen.
Blinken's visit follows a whirlwind tour of the Middle East that included an unannounced visit to the West Bank for talks with Palestinian Authority president Mahmud Abbas on Sunday. The US diplomat has been facing a chorus of Arab calls to support an immediate ceasefire. Foreign ministers from Qatar, Saudi, Egypt, Jordan and the United Arab Emirates met Blinken in Amman on Saturday and also urged him to persuade Israel to agree to a ceasefire. Blinken also visited Iraq on Sunday and held talks with the prime minister, Mohammed al-Sudani.
The latest manoeuvres come amid continued concerns for civilians inside Gaza, as the Israel Defence Forces (IDF) said they had divided the besieged coastal strip into two and the Palestinian news agency WAFA reported "unprecedented bombardment" by Israel.
Jordan's military air-dropped urgent medical aid to a Jordanian field hospital in Gaza early on Monday, according to a social post from Jordan's king and reports in state media. "This is our duty to aid our brothers and sisters injured in the war on Gaza. We will always be there for our Palestinian brethren," King Abdullah said.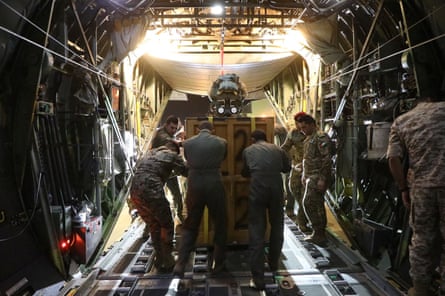 Late on Sunday, IDF Rear Admiral Daniel Hagari told reporters, "Today there is north Gaza and south Gaza", calling it a "significant stage" in Israel's war against the Hamas militant group ruling the enclave.
Israeli media reported that troops are expected to enter Gaza City within 48 hours. Strong explosions were seen in northern Gaza after nightfall and a communications blackout was reported by internet access advocacy group NetBlocks.org and confirmed by Palestinian telecom company Paltel.
World Health Organization director Tedros Adhanom Ghebreyesushas said he was "very concerned" about the reports of connectivity outages in Gaza, as well as "heavy bombardments" of the territory and called for all channels of communication to be restored "immediately". "Without connectivity, people who need immediate medical attention cannot contact hospitals and ambulances," he said.
In a rare joint statement, the heads of the UN's major humanitarian agencies as well as international charities called for an "immediate humanitarian ceasefire" in Gaza, calling the situation "horrific" and "unacceptable".
While condemning Hamas' 7 October attack on Israel, the heads of Unicef, the Office for the Coordination of Humanitarian Affairs (Ocha) and Save the Children among others said, "the horrific killings of even more civilians in Gaza is an outrage, as is cutting off 2.2 million Palestinians from food, water, medicine, electricity and fuel."
The UN said Sunday that 88 staff members from its Palestinian refugees agency have been reported killed, which it said was "the highest number of United Nations fatalities ever recorded in a single conflict".
The Hamas-run health ministry said at least 9,770 people had been killed in more than four weeks of war in Gaza. The operation started after the militants killed more than 1,400 people, mostly civilians, and took more than 240 hostages in the deadliest attack in Israel's history.
A spokesman for Israel's military told CNN late on Sunday that bombardments in northern Gaza were halted for several hours for two days in a row to allow civilians safe passage to move to the south of the narrow coastal strip.
"Not only are we telling them where to go, but we're also helping and creating much better humanitarian conditions in the south," Lieutenant Colonel Jonathan Conricus said, without indicating whether such pauses would continue.
Conricus said there was access to water and humanitarian goods in the south of Gaza, but Hamas was impeding convoys by firing on them.
US vice-president Kamala Harris will call foreign leaders later on Monday to discuss the conflict and advance White House efforts to increase the flow of humanitarian assistance to civilians in Gaza, her office said.
US CIA director William Burns has reportedly arrived in Israel to discuss the war and intelligence with senior officials, the New York Times reported. Burns also will make stops in other Middle East countries to discuss the Gaza situation, the Times quoted an unnamed US official.
Denial of responsibility!
News Continue is an automatic aggregator of the all world's media. In each content, the hyperlink to the primary source is specified. All trademarks belong to their rightful owners, all materials to their authors. If you are the owner of the content and do not want us to publish your materials, please contact us by email –
[email protected]
. The content will be deleted within 24 hours.