Good morning.
The World Bank poured billions of dollars into fossil fuels around the world last year despite repeated promises to refocus on shifting to a low-carbon economy, research has suggested.
The money went through a special form of funding known as trade finance, which is used to facilitate global transactions.
Urgewald, a campaign group that tracks global fossil fuel finance, found that the World Bank supplied about $3.7bn in trade finance in 2022 that was likely to have ended up funding oil and gas developments.
Heike Mainhardt, the author of the research, called for reform of the World Bank and its private finance arm, the International Finance Corporation (IFC), to make such transactions more transparent and to exclude funding for fossil fuels from its lending. "They can't say that they are aligned with the Paris agreement, because there isn't enough transparency to be able to tell," she said.
Many countries, developed and developing, are now pushing for reform of the World Bank. They say it needs to refocus its efforts on shifting to a low-carbon global economy. A new president, Ajay Banga, was appointed in June, after the previous incumbent, the Trump appointee David Malpass, resigned following questions over whether he was a climate denier.
Trump asks judge to recuse herself in federal 2020 election subversion case
Donald Trump's legal team on Monday asked the federal judge overseeing the 2020 election interference prosecution against him to remove herself from the case, arguing that her previous public comments about the former president's culpability in the January 6 Capitol attack was disqualifying.
The recusal motion, filed to and against the US district judge Tanya Chutkan, faces major legal hurdles: to succeed, Trump must show a "reasonable person" would conclude from just her remarks – but not any of her actual rulings – that she was unable to preside impartially.
Trump has long complained that the judge assigned to the case was biased against him because of her previous comments about Trump in other January 6 riot defendant cases and his legal team weighed filing the motion for weeks, according to two people familiar with deliberations.
The nine-page motion identified two episodes where Chutkan remarked on her opinion about Trump's responsibility in instigating the Capitol attack, which Trump's lawyers argued gave rise to the appearance of potential bias or prejudice against the former president.
Who is Chutkan? The judge, an Obama appointee, came into the case with a reputation of being particularly tough in January 6-related prosecutions after she handed down sentences in some prosecutions that were longer than had been requested by the justice department.
Kim Jong-un arrives in Russia to meet Putin as US threatens sanctions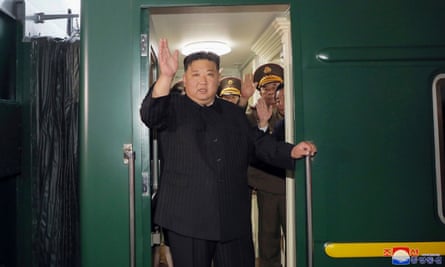 Kim Jong-un has arrived in Russia on his armoured train for a rare summit with Vladimir Putin to discuss a possible deal to supply North Korean arms for the war in Ukraine.
The train arrived at Khasan station, the main rail gateway to Russia's Far East from North Korea, Japan's Kyodo news agency reported on Tuesday, citing an unnamed Russian official source.
Kim, reportedly accompanied by senior arms industry and military officials, could meet Putin on Wednesday after the Eastern Economic Forum in the Russian port city of Vladivostok, where Putin has already arrived.
Kim's trip to Russia and meeting with Putin will be a full-scale visit to strengthen ties, according to the Kremlin spokesperson. "There will be negotiations between two delegations, and after that, if necessary, the leaders will continue their communication in a one-on-one format," Dmitry Peskov said.
What will the two leaders discuss? There are concerns in the west that Pyongyang plans to provide weapons to Moscow to replace stocks that have been heavily depleted during 18 months of fighting in Ukraine.

What has Putin being saying at the eastern economic forum in Vladivostok? He was asked during a Q&A specifically about the legal woes of former US president Donald Trump. He said the prosecution of Trump was good news for Russia, and illustrated that the US system was corrupt.
In other news …
Paul Simon has said he is "beginning to" come to terms with his almost complete hearing loss in his left ear, which is affecting his ability to perform music live. The 81-year-old singer-songwriter was speaking at the world premiere of In Restless Dreams: the Music of Paul Simon.

As many as 2,000 people may have been drowned after a powerful storm unleashed catastrophic floods in the eastern Libyan city of Derna. Speaking on the Libyan network Almasar, Ossama Hamad, the prime minister of the east-based government, reported that "more than 2,000 dead and thousands missing".

The Biden administration has issued a waiver to allow the transfer of $6bn in frozen Iranian funds from South Korea to Qatar as part of a deal to free five Americans detained in Iran. The waiver was a necessary step towards advancing a previously announced deal, which also involves the freeing of five Iranian citizens imprisoned in the US.

A Dutch art detective has recovered a precious Vincent van Gogh painting that was stolen from a museum in a daring midnight heist during the coronavirus lockdown three and a half years ago, police have said. Arthur Brand took possession of the missing painting, The Parsonage Garden at Nuenen in Spring, painted in 1884 and worth €3m-€6m.
Stat of the day: US sets new record for billion-dollar climate disasters in single year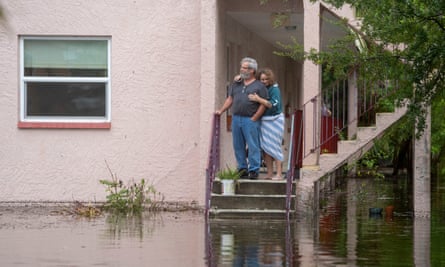 With four months of 2023 still left, the US has set a record for the most natural disasters in a single year that have cost $1bn or more, as fires, floods and ferocious winds were among deadly events experts warn are being turbo-charged by the climate crisis. The National Oceanic and Atmospheric Administration (Noaa) announced on Monday that there had already been 23 extreme weather events in the US this year that have cost at least $1bn. The figure surpasses the record of 22 such events set in 2020. So far, the total cost of disasters in 2023 is more than $57.6bn, according to Noaa. The record figure did not include major disasters such Tropical Storm Hilary last month, as the cost of that damage was still being calculated, Adam Smith, the Noaa applied climatologist and economist who tracks billion-dollar disasters, told the Associated Press.
Don't miss this: From prime time to lurid tales in a shed – the rapid descent of Tucker Carlson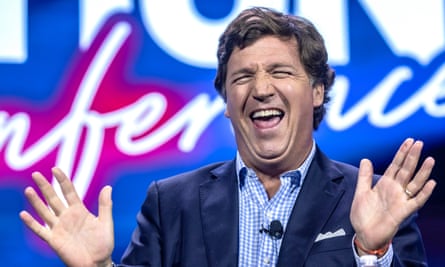 For years Tucker Carlson seemed untouchable at Fox News. His position as the channel's most popular host allowed him to wield power over viewers and the Republican party alike, his political influence reinforcing his position as the king of rightwing cable TV, writes Adam Gabbatt. That changed in April when Fox News, after settling a defamation lawsuit for $787m, gave Carlson the boot. The move was as unexpected as it was sudden and left viewers and pundits wondering what Carlson, who had used his position to push far-right conspiracy theories and elevate rightwing figures, would do next. So far, the answer has been: use a new Twitter show to push even more conspiracy theories and give a platform to even more bizarre people, which culminated with a new low this week, as Carlson revived a debunked claim that Barack Obama smoked crack and had sex with a man many years ago.
Climate check: Heat pumps twice as efficient as fossil fuel systems in cold weather, study finds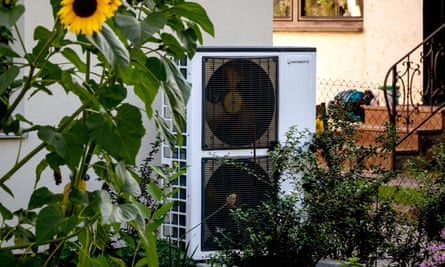 Heat pumps are more than twice as efficient as fossil fuel heating systems in cold temperatures, research shows. Even at temperatures approaching -30C, heat pumps outperform oil and gas heating systems, according to the research from Oxford University and the Regulatory Assistance Project thinktank. Heat pump uptake is rising in many countries as fossil fuel energy prices have soared following the invasion of Ukraine and as governments seek to reach net zero greenhouse gas emissions. The research, published in the specialist energy research journal Joule, used data from seven field studies in North America, Asia and Europe. It found that at temperatures below zero, heat pumps were between two and three times more efficient than oil and gas heating systems.
Last thing: Rudy Giuliani 'mob scene' turned Elon Musk off seeking advice, new book says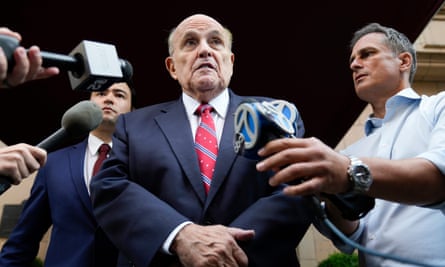 Elon Musk backed away from a plan to recruit Rudy Giuliani as a political fixer to help him turn PayPal into a bank in 2001 after he and an associate found the then New York mayor "surrounded by goonish confidantes" in an office that felt "like a mob scene".
"This guy occupies a different planet," Musk, who would become the world's richest man, said of Giuliani, then approaching the peak of his fame. Giuliani left office at the end of 2001 after leading New York through the aftermath of the 9/11 attacks, then ran for the Republican nomination for president in 2008, a campaign that soon collapsed. He became an attorney and ally to Donald Trump but missed out on a cabinet appointment when Trump won the presidency in 2016.
Sign up
First Thing is delivered to thousands of inboxes every weekday. If you're not already signed up, subscribe now.
Get in touch
If you have any questions or comments about any of our newsletters please email [email protected]
Denial of responsibility!
News Continue is an automatic aggregator of the all world's media. In each content, the hyperlink to the primary source is specified. All trademarks belong to their rightful owners, all materials to their authors. If you are the owner of the content and do not want us to publish your materials, please contact us by email –
[email protected]
. The content will be deleted within 24 hours.