"I lost myself," Katina Sheehan says of the period she spent struggling to look after her father, Michael, at home as dementia took hold of him, while still trying to work and care for the rest of her family. "I was just so caught up in the devastating trauma of his diagnosis and how he changed as an individual," she says. "It became all-consuming. And it took me a long time to find my way back to myself."
Michael, who was Greek Cypriot, had been diagnosed with frontotemporal dementia in 2017, and Sheehan had brought him home to England from Cyprus, where he had retired with her mother, Anne, many years earlier. For the first 10 months or so, things were OK. But then Michael began to deteriorate swiftly: his personality changed completely, and he became physically and verbally aggressive.
Sheehan's two children, then aged 17 and 23 and still living at home, witnessed their beloved "Papoo" – Greek for grandfather – change from a warm, loving man into someone they didn't recognise. "The children went through a really difficult time," Sheehan says. "Things went downhill very, very quickly. That was six months of just being caught in the eye of the storm. It's like being in a whirlwind. And you don't know what to do, or where to turn."
Back in Cyprus after Michael received his diagnosis, they'd walked on the beach together and she'd promised to keep him at home with her. Now, she was torn between her desperation to keep that promise and the effect Michael's condition was having on her family. "I adored my dad, absolutely adored him," she says. "He was everything a dad should be. I was fighting to keep him here … then watching my children struggling and crying and upset because they were watching their grandfather deteriorate."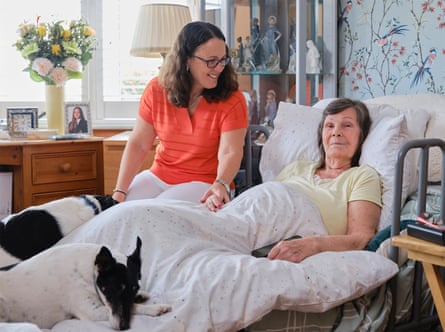 Eventually, it was no longer safe for Michael to live with the family. In December 2018, he was sectioned under the Mental Health Act, and was cared for in his final years in a nursing home.
Sheehan had tried – too late, she says, because she was so scared of making the wrong decision – to bring in home carers when she could no longer support her father. But after he'd gone into the nursing home and she was looking for a new job, she spotted a recruitment advert for care provider Home Instead, and started working as a carer herself, wanting to help people who had been in her position.
That's when she started to see the real benefits of bringing in care early, she says. "Gently easing it in from a companionship perspective, even if you only have someone visiting once a month, once a week – just to start to build that rapport and that relationship." When a quality care provider such as Home Instead takes the time to create a trusting relationship like this, it can really make a difference to a family's life.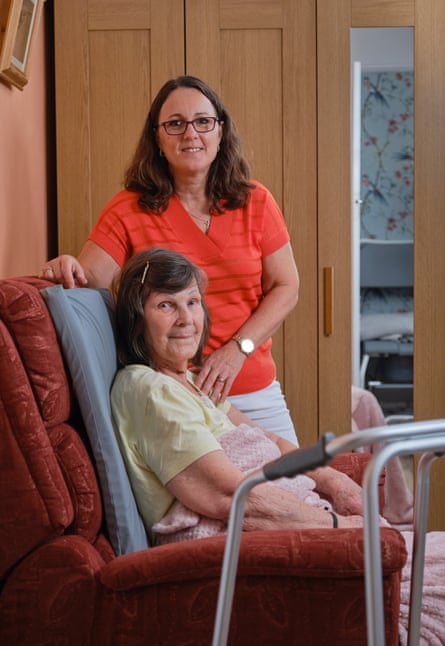 In 2022, her mother's health and mobility deteriorated following a fall and a long hospital stay, and this time Sheehan was quick to seek help. Home Instead carers come in twice a day, seven days a week – and that support has changed both her and Anne's lives.
"It's enabled her to have some companionship, to build those friendships with the care team," Sheehan says. "Yes, they're performing a job, but it goes so much deeper than that. Mum has someone to confide in, she's got someone she can talk to if she's worried about things. She looks on them as her friends."
She loves hearing Anne, 85, chatting with the carers – she has a regular team with whom she's been carefully matched, so there's no chopping and changing – and knowing her mother was in good hands meant Sheehan was able to take a promotion to a training role two years ago, and this year to training and development manager. "I wouldn't have been able to do any of that without having Home Instead here," she says.
It has also meant that her children, now 22 and 28, haven't had to take on a caring role for their grandmother, something Sheehan had been determined to avoid after all they'd been through with their grandfather, who died last year. They're happy to see the pressure taken off their mother, and Sheehan values the fact she's now able to focus on them – and her husband – more. "I know they're grown up, but you still don't stop caring about them and being involved in their lives," she says.
Having the care package has been liberating psychologically as well as practically. "It means I can just go to work and be Katina," she says. "I don't have to be a mother, a wife, a daughter. I can just be me. And I lost that when I had Dad at home, and I was trying to work and care for him."
She recently went away to stay with a sick friend for several days – something else she would never have done before, because of the pressure it would put on her children and husband. Sheehan knows the idea of having a carer in your home can be daunting: people might worry that the carer won't be able to look after a loved one as well as they can themselves, or that it'll be intrusive – or just that their house won't be clean and tidy enough.

But she says getting care in early, even if it's just once a month initially, allows not just the person needing support, but also the family, to get used to the idea. "You're not failing – you're just being kind to yourself as well," she says.
Society undervalues what care professionals do, Sheehan thinks, and the impact they have not just on client's lives, but on the family members who would otherwise be carrying the burden alone. "They give us the ability to breathe," she says. "I can take a lungful of air and actually breathe. And start to enjoy my life."
To find out more about how you, or someone you care for, can continue to live their best life, visit homeinstead.co.uk/home-care-for-your-family
Denial of responsibility!
News Continue is an automatic aggregator of the all world's media. In each content, the hyperlink to the primary source is specified. All trademarks belong to their rightful owners, all materials to their authors. If you are the owner of the content and do not want us to publish your materials, please contact us by email –
[email protected]
. The content will be deleted within 24 hours.