Sediq Shamal saw more than his fair share of blood when he worked as a medic with British special forces in Afghanistan. Now resettled in north Wales, he's putting skills honed on the battlefield to use in the health service.
"I have experience: I managed before 10 casualties, five casualties, explosions. I am proud now that I have my job with the NHS."
The 27-year-old is working in a clinic, taking blood. "I am very good," he says. When his colleagues are unable to coax a patient to have a sample taken, they bring them to him. "They call me magic man."
He is chatting to the shadow employment minister, Alison McGovern, here in Rhyl to meet the clients of a local job support scheme, Working Denbighshire. "I love it here," he tells her, showing a picture of his young daughter, born in Wales.
Helping Shamal to tell his story is Carys Drennan, the effervescent mentor who has helped him to navigate the process of starting a new life – and ultimately, finding a job – in a new country, from applying for a driving licence to securing a place on an NHS work experience scheme.
McGovern is in this Welsh seaside town to highlight the benefits of job support tailored to local areas.
"I've been trying to get the idea a bit more well understood that part of the big problem in the economy is the way we're using people's time and talents – that we're letting too many people's time go to waste," she says.
"It's also that our economic and our social problems are intertwined, particularly in a place like this, where you've got work in the hospitality sector, which has traditionally been badly paid and not necessarily given people the opportunities to progress."
With jobcentres increasingly focused on implementing the heavily conditional benefits regime, she says they fail to reach many people who may need help to navigate the labour market.
"We really shut down the flexibility and the support that was available to people: jobcentres don't really do any more what they were supposed to."
Here in Rhyl, the local council has taken existing funding from Westminster and Cardiff, as well as a recent grant from the government's Shared Prosperity Fund, and brought it together under a single brand – Working Denbighshire.
It runs one-to-one mentoring, aimed at tackling each individual's barriers to work, which can range from crippling social anxiety to the lack of an interview suit, an up-to-date CV or a birth certificate.
"The people we support are not people who can get a job, because those people go and get a job," says Working Denbighshire's Mel Evans.
"The people that we support have entrenched challenges. They're from jobless households of many generations; they have lots and lots of things that they need to overcome before you can put them into work – and if you do put them into work, it just sets them further back."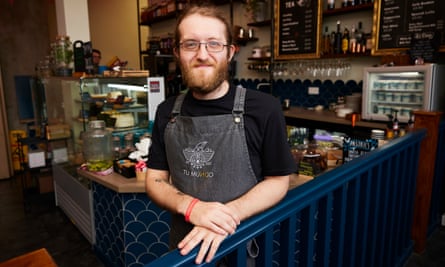 McGovern agrees, criticising the Department for Work and Pension's current "ABC" approach – "Any job first, a Better job next and into a Career" – based on the idea that the initial role of jobcentres should be to nudge benefits claimants into any role.
"Just any job won't work: it's got to be the right job, the right journey at the right speed," she says.
Shamal is among a varied group of the organisation's clients brought to meet McGovern, who happily accepts his request to pose alongside him for a photo.
After Keir Starmer's recent reshuffle, shadow ministers are expected to continue in their posts in a Labour government.
The new shadow work and pensions secretary, Liz Kendall, is a close ally of McGovern, who was involved in her ill-fated Labour leadership campaign in 2015 – and it is clear McGovern is now thinking herself into the role of employment minister.
Key to Labour's approach would be devolving responsibility for employment support to local level, as part of what Starmer has called his "take back control" agenda.
"Forced uniformity everywhere doesn't respond to the differences in local labour markets well. There's a different range of jobs in Rhyl and Prestatyn than there is in Oldham," McGovern says. Under a Labour government, she would like to see schemes like this across the UK – adapted to local circumstances.
"It might look like there are similar problems, of unemployment or inactivity or whatever, but there's a different range of jobs, there are different people, a different social history. If you localise things, that's a better way of supporting the whole UK economy."
Working Denbighshire has struck up close connections with local employers – including the construction firms involved in a major redevelopment of Rhyl's Queen's Market, and the rapidly expanding offshore wind sector here, as well as the more traditional hospitality businesses common to seaside towns.
Once its mentors have tackled clients' most severe barriers to work, they may be moved on to the Work Start scheme, which provides a subsidised period of work experience at a local employer, with the hope that it may lead to a job.
That's what happened for Luke Jones, 24, and Brandon Nellist, 25, who are serving up barista coffee and artisan cakes at the bustling Tu Mundo cafe, in Prestatyn – another seaside resort a few miles along the coast.
Jones, who says he is a writer of fantasy fiction in his spare time, was directed to Working Denbighshire by his local jobcentre. He has now worked at the cafe for eight months, while Nellist is still on work experience.
"I didn't have the confidence before I came here, so I had to work on my confidence a lot, and being here's helped," Nellist tells McGovern. "I didn't even leave the house before I started working here, and now I'll go out, I'll go for walks everywhere."
"What is it about the job here?" she asks. "It's just the support – and actually talking to customers, stuff like that," Nellist says. Before the intervention of his mentor, he says, "I didn't really feel like I wanted to get a job, because I didn't leave my house for six months."
The cafe's owner, Dan Jones, who has built up a relationship with Working Denbighshire, says he values the loyalty of the staff who have come through the scheme. "I'm not going to pretend that it's easy. We've had some bumps – but it's part and parcel of the journey."
Denial of responsibility!
News Continue is an automatic aggregator of the all world's media. In each content, the hyperlink to the primary source is specified. All trademarks belong to their rightful owners, all materials to their authors. If you are the owner of the content and do not want us to publish your materials, please contact us by email –
[email protected]
. The content will be deleted within 24 hours.