Lauren Price was saved. From when she was just a three-day old baby her grandparents took her in and cared for her themselves. She knows they changed the course of her life.
Price has been a preternaturally successful sportswoman. A world champion kickboxer in her youth, she played football for Cardiff and Wales. She was talent scouted by the GB taekwondo programme before she joined the Welsh, then the British Olympic boxing programmes.
As an amateur boxer, she won everything possible – Commonwealth, European, World and of course Olympic gold medals. As a professional fighter she is fast rising. She's already won the first ever women's professional British championship and is on track for a world title shot next year.
Lauren Price put on a dominant display to defeat Kirstie Bavington and become the first professional British champion in women's boxing.

All those accomplishments, including being awarded an MBE by King Charles, are the results of countless hours and year after year of gruelling, taxing work. It's no easy feat. Few in sport have comparable achievements.
But as tough as that has been, Price knows that without her grandparents her life would have been so much harder.
"I just think how lucky was I to be saved in that way," she told Sky Sports.
Her older brother, who tragically died shortly before Price's most recent boxing contest, led a life that might have been hers.
He was only 38 when he died. "He got into trouble at the age of 21, went to jail and then he never came out because to him life in jail was better than being at home. So he went into an institution," she said.
He died with little more than a fortnight left before he was due to leave. "He was coming out to live with my sister and he turned his life around and he was a completely different person basically," Price said.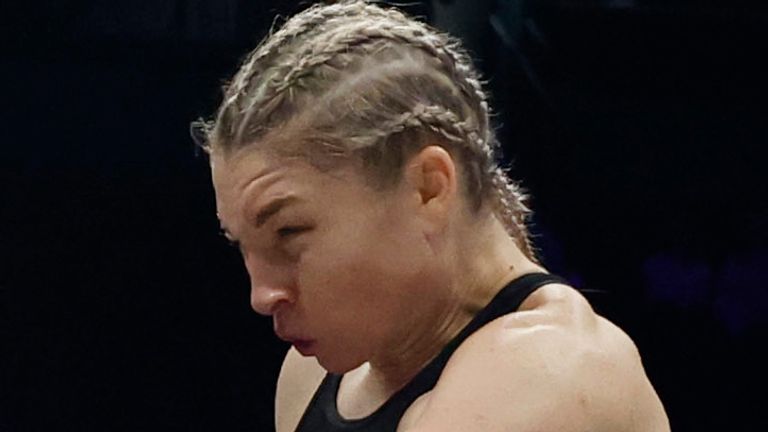 "The people who looked after him sent me a message just saying 'watching you changed his life, you inspired him that there's better things out there'.
"My sister, she was very close to him growing up," she explained. "He was coming out to live with her, he turned his life right round. Everyone you spoke to, they say he was a lovely boy."
In her most recent bout, Price boxed with the nickname 'The Lucky One' emblazoned on her kit. It's a tribute to her family and to what her grandparents did for her.
It was at her brother's funeral that she decided to give herself that fighting nickname.
"I was the lucky one," she realised. "I was saved really."
"I was the youngest so for me I lived with my nan and grandad from three days old. For me I look at it as I had a lucky escape. So I was the lucky one because I was the one who was saved whereas they didn't have a great life," Price said.
"They're two amazing people who took me on at three days old, gave me a life and always told me to believe in my dreams, spent thousands over the years for me to go kickboxing, playing football.
"My dream was to go to the Olympics. They always supported me. That's how I look at it, if it wasn't for them then I wouldn't be in that position and have achieved anything. Sadly obviously my grandad's not here anymore, my nan obviously she still supports. It was something close to my heart.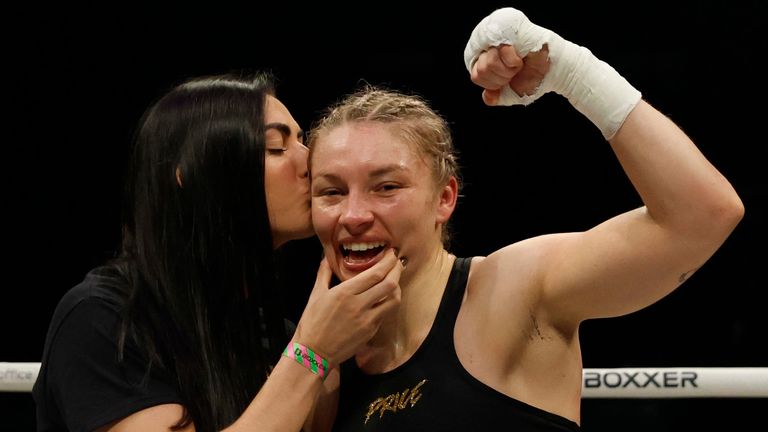 "I feel like that's a big part of me, for what I achieved in the Olympics, how I got there and even now, even from a little girl watching Kelly Holmes on telly, sat in the living room with them, who inspired me," she continued.
"My nan always used to say to me reach for the moon, if I fall short I'll land on the stars and she's always been encouraging me.
"I just thought, especially with my brother passing and the life he had, it was just a crazy situation and heartbreak that I look at and I just think how lucky was I."
Have suffered that bereavement, Price still boxed on the Liam Smith vs Chris Eubank Jr bill in Manchester at the start of this month.
Not only did the welterweight compete but she took on Lolita Muzeya, who came in with an 18-1 record and was a former world title challenger up at middleweight.
"I think a lot of people wouldn't have took the fight. People have boxed against lower opposition on paper for world titles than that. I knew she was a bit of a handful," Price said. "I'll box anyone."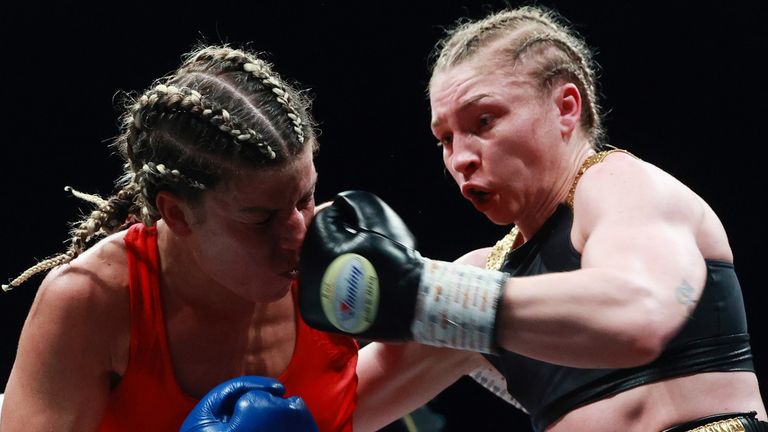 Price outclassed Muzeya and, after shaking up her opponent, took a technical decision win once Muzeya picked up a bad cut.
"She was big," Price said. "She was gunning for me. She was trying to connect with her back hand. I knew every time she was throwing it, she was falling in. I know the ref warned her twice about her head."
She had been hurting Muzeya before the bout was stopped. "As she was leaning in, I countered her," Price said. "I hit her with a one-two-hook and I could see her sink down and move backwards."
That bout is just a marker of the Olympic champion's ambition. She'd like to fight for a world title soon, preferably before the year is out.
Another Briton, Liverpool's two weight-world champion Natasha Jonas, holds the IBF title at 147lbs. That's who Price is targeting.
Lauren Price called out Natasha Jonas after her victory over Lolita Muzeya but the two-weight world champion was not convinced.

"I would like that fight. I believe I'm at my peak now and I'm in my prime. I feel like I'd win that fight. I'd back myself," she said. "I respect Tash, but obviously there comes a point where somebody has a world title and that's what I'm in the game for."
There are other potential rivals. America's Mikaela Mayer is moving up to welterweight and is also taking aim at Jonas.
"I think that's a 50-50 fight, it's an interesting one. Watching Mayer [against Silvia Bortot], she's obviously got a high work rate, a good selection of punches. But then Tasha, she's got a good backhand, finishes on her hook, a bit stronger as well I think as well. It's an interesting fight.
"I honestly don't know [who wins]. Mayer hasn't fought at 147lbs. That's the question. Can she bring her power, her strength up through to that weight, Tasha obviously being a strong southpaw as well, so I think it's a very good fight.
"I'd want obviously Tasha to win but I think it's a very good fight as well."
Price though is confident that, sooner or later, her opportunity will come too. "When I turned [professional] my goal and obviously my dream is to win world titles," she said.
"Whoever's holding them belts at the time I'm going to want to fight and that's how it is.
"As long as I'm winning in the ring and looking good, them fights are going to come."
Denial of responsibility!
News Continue is an automatic aggregator of the all world's media. In each content, the hyperlink to the primary source is specified. All trademarks belong to their rightful owners, all materials to their authors. If you are the owner of the content and do not want us to publish your materials, please contact us by email –
[email protected]
. The content will be deleted within 24 hours.