When Hubeline Jasper was a child, her family was kicked out of their San Francisco apartment – but her mother was determined to stay. Even after the landlord turned off the utilities, they remained in their home in the Fillmore district, the city's thriving Black cultural and economic hub. To make it work, her mother cooked over an open fire in the dining room, using skills she had learned growing up in rural Texas, and daisy-chained extension cords to borrow electricity from a neighboring building.
"In those days, families had to look out for each other," Jasper recalled.
When the smoke became unbearable, they moved to a relative's apartment several blocks away. But it wasn't long until that building was torn down, forcing them to leave again.
They were just one of the many families displaced by San Francisco's "urban renewal" program of the 1960s and 70s, in which entire blocks in predominantly Black neighborhoods were seized and demolished. The destruction was widespread: thousands of Black families lost their homes, Victorian walk-ups were replaced with high-rise housing projects, business owners lost their livelihoods and a cultural hub, commonly dubbed the "Harlem of the west", was wiped out. Other marginalized groups, including Japanese Americans, also saw their neighborhoods razed.
San Francisco's Black population peaked in 1970, at just over 13% of the city's total population. Since then, it's been in steady decline. In 2021, the city was just 5.7% Black. Many attribute this to the fallout of urban renewal, which James Lance Taylor, a professor of political science at the University of San Francisco who also sits on the city's African American reparations advisory committee, described as "the single greatest injury inflicted on Black San Franciscans".
Now, the city is trying to make amends. Jasper, now 75, is one of those doing the work.
At the time of urban renewal, the city offered displaced families access to subsidized affordable housing options, but for a variety of reasons, these benefits were rarely cashed in, and many people chose to leave the city altogether. This past year, Jasper became part of a city-supported team of private investigators tracking these families down to let them know the offer still stands.
Jasper says she hopes this work, which comes as San Francisco also weighs reparations for Black residents, will offer some closure to a community that has suffered decades of intergenerational trauma and poverty as a result of urban renewal – as well as some economic relief for people struggling to find stability in one of the US's most expensive housing markets.
---
At the time of urban renewal, the San Francisco redevelopment agency offered displaced residents a document known as a Certificate of Preference, which in theory promised the holder priority access to public housing, including below-market-rate rental and ownership options, often in housing projects built atop the rubble of buildings demolished by urban renewal.
But very few certificates were ever used, ostensibly because city officials failed to honor them, although it is unclear whether that was done out of malice, confusion or lack of oversight of the program. While San Francisco issued more than 7,000 certificates of preference during the years of urban renewal, fewer than 1,500 have been exercised in the past five decades.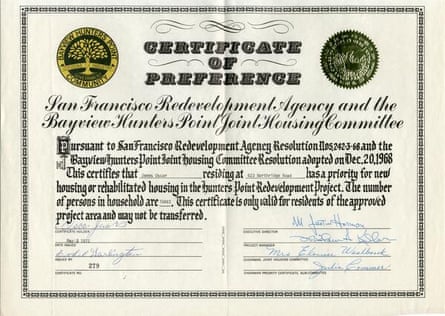 Many families filed them away, anticipating that they would never hold value. Some even threw them in the trash. "People have them as a memento," said Taylor. "It reminds them of the injustice and false promise."
The city is hoping to change that. Last spring, it hired Lynx Insights & Investigations, a private investigations firm based in Los Angeles, to track down people who are eligible for certificates, and inform them of the associated public housing benefits.
"We're good at finding lost people," said Giles Miller, the lead investigator at Lynx, whose past work has focused primarily on corporate investigations and business disputes.
When the city handed over a trove of occupancy records with the handwritten names of more than 10,000 displaced people, Miller saw an opportunity. He and his colleague Majeid Crawford, the executive director of the New Community Leadership Foundation, a nonprofit based in the Fillmore that partnered with Lynx on the project, decided to hire and train longtime San Francisco residents with connections to the Fillmore and other neighborhoods affected by urban renewal.
"Being from the community means that you have empathy," said Crawford, pointing out that these investigators understand what's at stake, and that interview subjects will be more likely to open up to them.
One of their 14 hires was Jasper. She's spent many of her days this year in front of her home computer, sifting through historical records, checking off long lists of names and making cold calls.
---
The initial plan was to move swiftly through the database of names and phone numbers to locate as many people as quickly as possible. Lynx's contract was for only six months, but the job in front of them was vast and the work complex. Residents' information might have been incorrectly recorded in the 1960s; many individuals – especially women – had changed their names; and others had relocated to different states.
But once they started, it became clear that the work could not be rushed, in part because the investigators wanted to let people open up about what they had experienced.
"There's something about allowing people to tell their stories," said Priestess Akhi Nu, an investigator who's lived in San Francisco for decades.
When they called people, investigators said they encountered a range of reactions. Some had no interest in the program – they had moved out of state and no longer had any connections to California, or owned their own homes and would not qualify for public housing. Some were wary. "They feel like, 'You've hurt me once, I don't trust you anymore,'" said Jasper, adding that people worried the calls were scams or entrapment. Others wanted nothing to do with an institution that had caused them so much pain, especially those who were nearing the end of life. "They were like, you're a day late and a dollar short," said Jasper. "That was a hurting thing."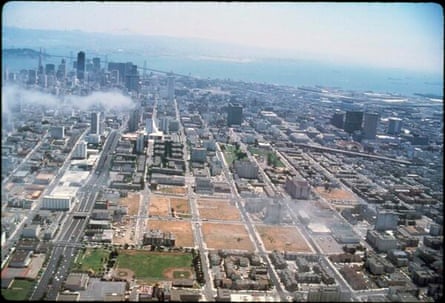 The hardest part was learning that someone they were trying to reach had recently passed away. Once, Jasper reached the daughter of a certificate holder who had died just three weeks earlier. "'All her life she waited for this, and now she's gone,'" Jasper recalled the woman telling her in tears.
But many were excited, especially when they learned about a new law that would let their descendants benefit from the program.
"The most uplifting part of the job was when a parent wanted it for their children," said Akhi Nu.
This was the case for Sharmaine Quinnine, another Lynx investigator. Her grandmother was displaced from the Fillmore in 1971, when Quinnine was just one year old. For years, Quinnine had been trying to move back to San Francisco to be closer to her mother, but the cost of housing in the city forced her to stay in Vallejo, 30 miles north. "It's just been a challenge to find something affordable," she said.
But last fall, Quinnine learned that she and her children qualify for certificates of preference. She didn't expect much, but when she used it to apply to rent a two-bedroom condo in the Bayview neighborhood, she said her name shot to near the top of a 700-person waitlist – and she got the apartment.
Quinnine said she's elated that her family can live near each other once again: "I'm so grateful to be back home."
---
By the time Lynx's six-month contract with the city ended in May, investigators had been able to connect with 4,500 people, less than half of the names in their database. But Miller and Crawford are hopeful their contract will be renewed so they can continue their work.
It's part of a larger conversation in San Francisco about remedying the city's past injustices. In July, the African American reparations advisory committee issued its final report, which included recommendations of $5m in cash payments for every eligible individual, as well as funding for health, educational, entrepreneurial and cultural programming. In September, the state senate will vote on a bill proposing the use of bond revenue to fund housing construction in neighborhoods affected by urban renewal.
Like other cities, San Francisco uses a lottery system to determine who gets first dibs on renting or buying subsidized, below-market-rate properties. Registered Certificate of Preference holders receive priority placement in that lottery.
However, acceptance into the program is not automatic, said Thor Kaslofsky, the executive director of the office of community investment and infrastructure (OCII), the city agency overseeing the certificate of preference program.
Individuals have to show documentation proving that they or a direct family member lived at an address that was seized by the redevelopment agency. Once their certificate is approved, and if they qualify as low-income – meaning they make at most $104,000 a year for single people – they must then register with the city's affordable housing portal.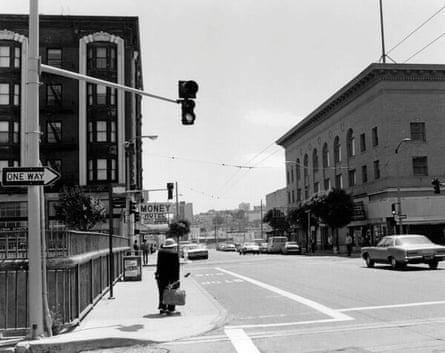 Not everyone makes it through, though. In July, Jasper learned that her own application for a certificate of preference had been rejected.
It was not for lack of trying. Jasper had used ancestry.com to find documents proving her relationship to her mother, who had a different last name. She also found school transcripts that listed her residence as a building in the Fillmore that had been seized.
But according to the mayor's office of housing and community development, Jasper's family left that address before it was acquired by the redevelopment agency.
"I can't believe it. I remember it all so well," said Jasper. "I thought this program might be a way out for my family, especially my grandchildren, who are trying to work and go to college."
Jasper, who rejects the city's claims, isn't going to give up – and she'll use the tools she gained as an investigator to get what she says is rightfully hers. "I've got to work just as hard for myself as I did all the records I processed while working for Lynx," she said.
Denial of responsibility!
News Continue is an automatic aggregator of the all world's media. In each content, the hyperlink to the primary source is specified. All trademarks belong to their rightful owners, all materials to their authors. If you are the owner of the content and do not want us to publish your materials, please contact us by email –
[email protected]
. The content will be deleted within 24 hours.