This year in the Japanese city of Yokohama the streets were paved with gold – in the form of giant Pokémon cards. From rare holographics on glass palisades to a Pikachu card the size of a small garden to tiled floors covered with common creatures, the city's interconnected malls paid tribute to the Pokémon trading card game, while the world's best players went head to head at the Pacifico convention centre at the annual world championships.
Nine billion of these cards have been produced to date, 21% of those since 2021, sold in 76 countries and 13 different languages. They were so popular in 00s playgrounds that they were often banned from schools – a phenomenon that's repeating itself now, after the cards enjoyed a pandemic boost courtesy of bored kids and nostalgic millennials. YouTuber Logan Paul made headlines when he spent $5 million on a single card in July 2021.
The company that creates them, Creatures Inc, is usually shrouded in secrecy. Sitting in the shadow of Tokyo's Imperial Palace, the building is everything a Japanophile would hope for. In the lobby, a vast wooden decking overlooks a picturesque field of water lilies, a mass of green tendrils swaying in the wind. Ascending in the lift, it's not hard to picture a slew of curious creatures scuttling across the flora, living a hidden life under the shadow of the palace. Inside, striking black and white 3D art installations depict a surprisingly Tate Modern-ready take on Pokémon, flanked by stunningly brutalist recreations of Blastoise and Charizard cards, chunks of crystal protruding from thick ceramic edges. The surrounding walls are adorned with empty card shells.
From core concept to final printed designs, each new card set takes a year to develop, their creators explain. "Whenever new game software comes out, the TCG [trading card game] also follows the new Pokémon and their video game mechanics' logic," says TCG game director, Atsushi Nagashima. In charge of determining the actual rules of the card game, Nagashima is responsible for ensuring that card battles remain fun and fair.
Many Pokémon card collectors never actually compete with their cards, of course, but Nagashima doesn't mind. "I believe that Pokémon cards should be enjoyed in many different ways… so I think it's fine that people collect the cards and don't play with them. I think the reason people love the card game is fundamentally that love of Pokémon first, and for many people it's just fun to collect them. It's that essence of where, as a child, you enjoy being outside, searching, capturing and playing," he muses. "That is why I believe [the TCG has] been loved across generations.
"We are constantly trying to evolve the game itself," Nagashima explains. "Recently we have put a lot of effort into our art cards, which really encapsulate the environments of the Pokémon and their character."
Creatures Inc employs over 240 freelance artists, and the aim is for no two Pokémon cards to ever look the same. From the expected anime-esque aesthetic that defined the early designs, to abstract, hallucinogenic interpretations of Pokémon, the eye-catching art is a large part of what drives people to spend staggering sums on booster packs.
"We are always trying to find more variety in terms of the artist styles," says illustration director Haru Saito, flanked by three of Pokémon's most beloved artists. "So we always have a heated discussion about [which artists] are the best fit for which cards. We are always trying to offer new surprises and new styles of illustration… to keep [the cards] interesting."
Gidora, a relatively new artist at the company, has made a name for himself with cards that showcase the relationship between trainers and their Pokémon. His work aims to enrich the wider Pokémon lore, he tells me, using his panels to tell the stories he dreamed up as a kid. "I really think that illustration can offer a new way to express the playfulness of the world of Pokémon," he says.
With artists commissioned to lend their unique style to Pokémon, Saito tells me she believes in leveraging individual creative freedom to make each card distinctive. There's no better example of this than Yuka Morii. Where her peers use a pen or a paint brush for their designs, she moulds her creations out of clay. Painstakingly carving out her Pokémon, she fires them and then takes photos of her finished clay artwork in real-world environments for each card frame, bringing each of her chosen Pokémon to life.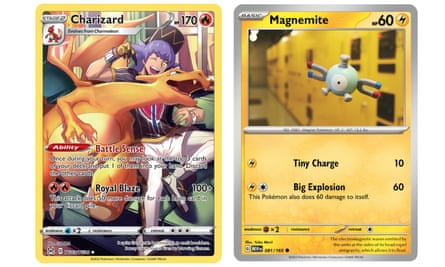 Illustrators' work is front-and-centre on Pokémon cards, but behind the scenes, a lot more hard work goes into keeping competitive play balanced – work that falls to Creatures Inc's unsung heroes, its internal game testers. Whenever a new card is designed, these 18 Pokémon sages crack their knuckles and put it through its paces. Their job? To play with Pokémon cards, all day, every day.
Unlike in video games, where a game-breaking attribute can be fixed via a quick patch, once the cards are printed, errors are permanent. The aim, then, is to avoid a bug – a card attribute that destroys the balance of the game – by pitting each new paper prototype against a staggering amount of deck combinations to ensure it plays nicely.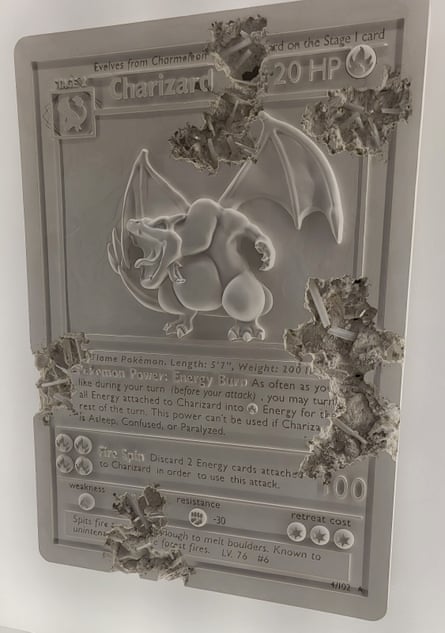 Cards in general take one to two months to test, grinning testers Kohei Kobayashi and Satoru Inoue tell me. The best case scenario? A card makes it through the test process in just three weeks. Playing four games an hour, their work days see them engaging in at least seven hours of rigorous battling. They constantly laugh and joke around throughout our chat, oozing an infectiously university-flatmate-esque camaraderie.
How, you may wonder, does one become one of these 18 Pokémon testers? "Through passion and knowledge!" says a smiling Kobayashi. "The candidate of course has to know all the details of all the cards – or just be capable of studying to learn all the details."
Interestingly, Kobayashi explains that the game designers make a point of never hiring pro players. "I never hire or scout anyone at the world championships, because I want to leave the strong players as they are." He adds: "They really shine when they are out there competing, so I don't want to ruin that."
Nagashima loves watching players enjoy the competitive game. Seeing the cards laid out everywhere in Yokohama for this year's championships was a moment of pride. "It's incredible. I have been going to the world championships since 2004," he says. "I get incredibly inspired by watching people compete, and there are many places where they have gym battles near my house, so I often go and watch people play."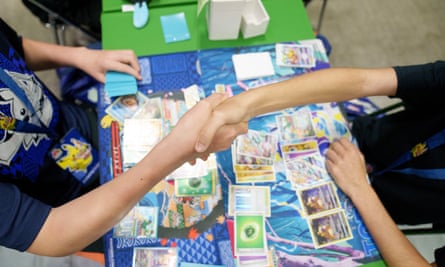 With board and card games such as Magic the Gathering more popular than ever, Pokémon has no shortage of competitors. Disney has just launched its own, Lorcana, in collaboration with Ravensburger, featuring art from its huge stable of film properties. But Nagashima seems unfazed. "Instead of leaning too much towards data and analytics, I would advise [card creators] to really think about how [their game] is played and what enjoyment that brings to the players," he says.
Everyone I speak to at Creatures Inc seems to really enjoy their work, at least as much as people enjoy the cards; a smiling Morii tells me she receives fan mail most days. For Gidora, who has been a fan since the very first TCG expansion, he is living out a lifelong dream.
"As a kid, I used to wonder how the illustrators would feel when they were chosen to draw for Pokémon. I feel incredibly proud," he says. "I'm trying to ensure that my work can inspire too, and give kids the same excitement I got [from the cards] growing up."
Denial of responsibility!
News Continue is an automatic aggregator of the all world's media. In each content, the hyperlink to the primary source is specified. All trademarks belong to their rightful owners, all materials to their authors. If you are the owner of the content and do not want us to publish your materials, please contact us by email –
[email protected]
. The content will be deleted within 24 hours.