The first new nuclear reactor built from scratch in the United States in a generation entered commercial operation on Monday following years of billion-dollar delays.
It's a milestone moment that advocates hope will whet the nation's appetite for more atomic power plants ― and reopen a fresh debate over what kinds of reactor technologies the U.S. should prioritize.
After 14 years of construction and financial woes that at one point bankrupted the legendary nuclear firm Westinghouse Electric Corporation, Unit 3 of Southern Company's Alvin W. Vogtle Generating Plant split its first uranium atoms in March. With its final tests completed, the 1,100-megawatt reactor began full-scale electricity production this week near Georgia's border with South Carolina.
If its sister Unit 4 enters into service next year as planned, the facility's combined four reactors will make Plant Vogtle the country's second-largest power plant, supplying millions of homes and a growing number of factories making solar panels, batteries and electric vehicles with steady, carbon-free electricity for decades to come.
"[T]his project shows just how new nuclear can and will play a critical role in achieving a clean energy future for the United States," Southern Company chief executive Chris Womack said in a statement.
Unit 3 is the first "advanced" nuclear reactor deployed in the U.S. Designed by Westinghouse, which designed the first nuclear submarine in the 1950s and built out much of the U.S. nuclear fleet throughout the following two decades, the AP-1000 was meant to be safer, more efficient and more powerful than most other reactors on the market.
Despite the successful construction of a competing "advanced" reactor in Japan years earlier, the design of which U.S. nuclear regulators had already licensed, American utilities opted instead to go all-in on the novel AP-1000 in the early 2010s.
Unlike the rival Japanese reactor, the AP-1000 had not yet been built anywhere in the world. As construction began in Georgia and on a similar project in South Carolina, Westinghouse made repeated tweaks to the design, forcing developers to go back to the U.S. Nuclear Regulatory Commission for permission. Given the uniquely rigorous approval process for any nuclear construction, the costs quickly mounted, ultimately ballooning by more than $15 billion.
After spending more than $9 billion digging a giant hole in the ground, the South Carolina project collapsed, the utility behind the reactors sold at a fire-sale price, and its two top executives went to jail for lying to state regulators about the nuclear plant's viability
In Georgia, the twin reactor project progressed, despite repeated problems that led to Westinghouse filing for Chapter 11 protections in 2017. In the meantime, China completed construction on four modified versions of the AP-1000 and is finishing work on another two. Beijing has since ordered at least four more.
Part of what was supposed to make the AP-1000 competitive is its modular design, meaning parts of the reactors could be fabricated off-site at factories. That was supposed to bring prices down, but assembly-line repetition only bends the cost curve if there are enough orders to keep production going.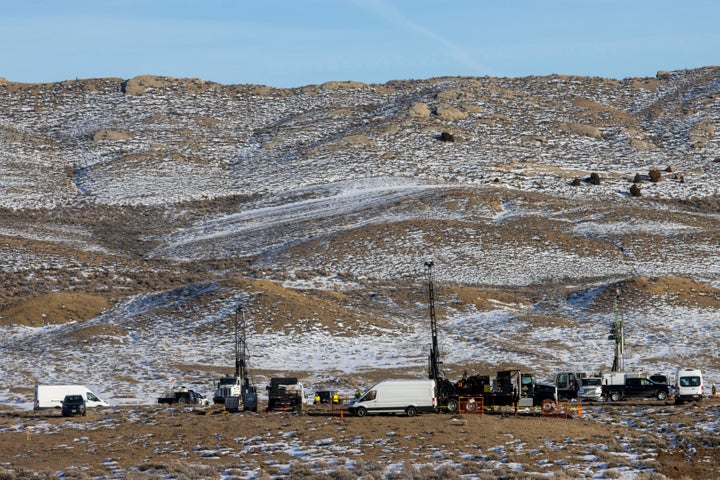 The billion-dollar cost overruns associated with the Vogtle project have spurred a new generation of nuclear developers to push what are called small modular reactors, essentially fission machines with one-fifth or less the power of an AP-1000. Making reactors less powerful and more easily made in factories should, analysts say, encourage utilities to buy more of them, lowering the cost of each consecutive unit.
But research from the Massachusetts Institute of Technology estimates that building a so-called SMR plant would be between 1.4 and 1.75 times more expensive than constructing another AP-1000 on a per-megawatt basis, given that the latter reactor can now benefit from existing supply chains.
For now, the U.S. has no plans to build another large-scale reactor after Plant Vogtle's Unit 4. That could change. Far from downsizing its emissions of planet-heating gas, U.S. output of climate pollution maintained its upward tick for yet another consecutive year in 2022. Power outages are becoming more common across the country as the nation's patchwork of aging grids heave under increased demand for air conditioning amid heat waves and decreased supply from the closure of coal and nuclear plants.
The only new reactors planned as of now are SMRs, which critics say face the same problems as traditional reactors and remain, for the most part, theoretical at a time when Vogtle's woes show how much can change from blueprints and license approval to actual shovels in the ground.
Still, Unit 3 "paves the way for future nuclear projects," said Maria Korsnick, the chief executive of the Nuclear Energy Institute, a trade association.
"The commercial operation of Vogtle Unit 3 marks a significant achievement for the U.S. nuclear energy industry and a milestone in advancing global clean and reliable energy solutions," she said in a press release Monday morning. "It exemplifies the industry's commitment to a zero-carbon future, contributing to global efforts to combat a changing climate and energy security."
Denial of responsibility!
News Continue is an automatic aggregator of the all world's media. In each content, the hyperlink to the primary source is specified. All trademarks belong to their rightful owners, all materials to their authors. If you are the owner of the content and do not want us to publish your materials, please contact us by email –
[email protected]
. The content will be deleted within 24 hours.