Jeremy Rodway, a freelance producer and director who has worked in television for 26 years, did not expect to spend his 55th birthday in a red postal van, delivering Royal Mail parcels near Sheffield.
Rodway has brought to life a host of documentaries about work, such as Channel 5's Paddington Station 24/7, which led to a surreal situation on his first mail shift. "I remember having the thought: 'Oh I see, it's me who's got to pick the post up, not just film somebody doing it,'" he says. "It's a very strange experience."
Like thousands of people working in the UK's £6bn film and TV industry, Rodway has struggled to find work this year and has now been pushed out of the sector. The Bectu union, which surveyed almost 4,000 freelancers, recently found three-quarters are out of work, 35% are struggling to pay household bills and 80% have had their employment directly affected by the US industrial disputes – in what the union head, Philippa Childs, calls a "devastating" crisis.
A perfect storm has battered the industry, especially freelancers, with ripples from this year's Hollywood writers' and actors' strikes, a drop in ad spending and a fall in commissions from domestic broadcasters and international streamers leading to much of one of the UK's booming cultural industries quietening to a whisper.
As many film sets turn to ghost towns, hundreds of workers across the UK industry got in touch with the Guardian to outline how they are struggling with money worries, taking on jobs outside the industry and experiencing crises of confidence amid a slowdown from which the sector may never recover.
"I'm digging through my savings," says Rodway, who has a mortgage and a daughter at university to support.
Before Rodway applied to be a postman he spent two months jobless after a role ended in June. He counts himself lucky to have any work, and does not mind the job, but the pay is a significant hit at £14 an hour, down from his typical £1,550 a week. "I'll probably struggle to pass that in a month," he says.
Alongside the financial toll, the lack of work is throwing film and TV workers into a crisis of confidence and identity. "It feels to me like I'm grieving, TV has been a massive part of my character," Rodway says. "When it's taken away, you feel like you're not yourself, it's like there's 75% of yourself missing somewhere and you don't know where it's gone."
The UK ad market is forecast to contract by almost 7% this year, the biggest annual decline since 2009 besides Covid in 2020, which particularly hits broadcasters such as Channel 4, ITV and Channel 5 that rely on ad revenue for commissioning.
The sector has "gone from complete feast to famine", says Holly Ritchie, a 43-year-old freelance broadcaster in Glasgow with about 20 years' experience. Last year, Ritchie's "phone was ringing all the time" but this year she has not been offered any work.
Ritchie says she is lucky to have savings in the bank and a partner with a stable income, and did manage to work on a TV project in June, but has had to suspend payments to her pension and ISA. After earning £50,000 by October last year she has made half that so far. "I'm using my savings to live," she says.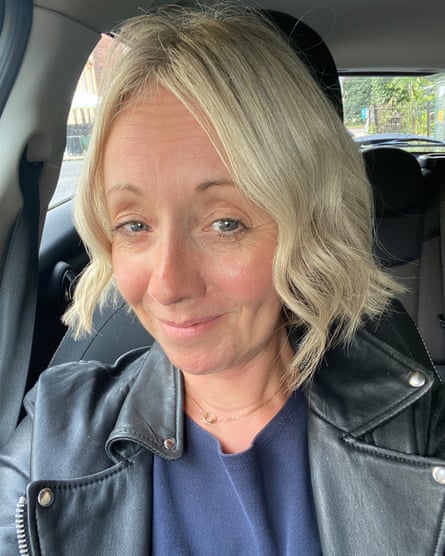 There are fears that, even if commissioning budgets tick upwards again in the next financial year, the UK industry will suffer a brain drain of skilled talent as people must seek other employment or get pushed to the brink.
"They're going to have lost a lot of amazing people," Ritchie says, adding that she can probably weather the storm with savings until next spring. "Most [freelancers] feel completely undervalued and that we're just disposable numbers on a spreadsheet."
For Ritchie, it is frustrating when ministers talk up the UK's film and TV industry as an emblem of national cultural pride but have consistently cut or frozen the BBC's budget and refuse to offer any support in dire times.
After applying in vain for countless roles this year, Rachael*, a 29-year-old locations coordinator in London, found herself working a trial shift in a pizza restaurant recently after being unable to find work.
"I wouldn't shun any job right now, but it just felt like a backwards step," says Rachael, who asked for her real name not to be used. "I cried into my pizza [afterwards]." The worry is that workers in the earlier stages of their career will feel an even deeper impact – or be pushed out the sector altogether.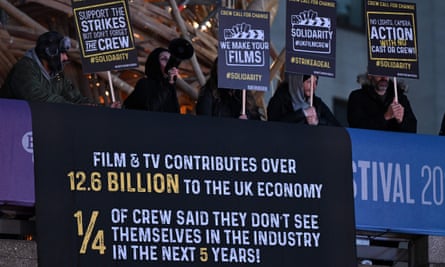 "It's really stressful," Rachael says, with £1,200 a month on rent and bills to pay, which is whittling away her savings. One thing keeping her strong, she says, is the fact so many colleagues are suffering the same ordeal – but the grim prospect of moving back home with her mum in Scotland looms on the horizon if the slowdown does not pick up.
For David Toms, a 33-year-old freelance TV editor in Birmingham, work has "dropped off a cliff" this year, and after his current project he has nothing lined up. He says that last year he would get two or three emails a week about work, but now he goes months at a time without a job.
"The panic I've got at the moment is, coming up to Christmas, your heating bill's up and I've got a five-year-old with Christmas presents to think about. It's really scary," he says. Last year for his son's birthday, Toms threw a party, but this year that is unaffordable. "That really affects you, because you obviously want their life to be happy and not worry about stuff."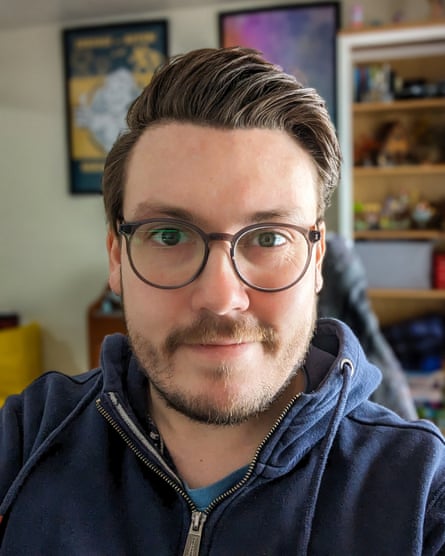 Toms, who works on unscripted shows such as BBC's Inside the Factory and Channel 4's World's Most Secret Hotels, says he is considering downsizing his rental home – or even leaving the industry and going into teaching. "It's so painful really, because you worked so hard to get there, and to think about having to leave it is just heartbreaking."
Toms has started taking antidepressants again due to the stress. His wife was recently diagnosed with fibromyalgia and has had to cut her working hours, compounding the financial pressure on their household with rent and loans and credit card debts to pay.
Toms adds that with broadcasters not commissioning many new shows, the situation does not look likely to change anytime soon. "There's just nothing on the horizon," he says. "It's such a terrifying feeling – this feeling of dread. I don't know what's next."
*Rachael's name has been changed.
Denial of responsibility!
News Continue is an automatic aggregator of the all world's media. In each content, the hyperlink to the primary source is specified. All trademarks belong to their rightful owners, all materials to their authors. If you are the owner of the content and do not want us to publish your materials, please contact us by email –
[email protected]
. The content will be deleted within 24 hours.