'Turning fear into wearable pieces': in the workshop with Alighieri jeweller Rosh Mahtani | The Makers Project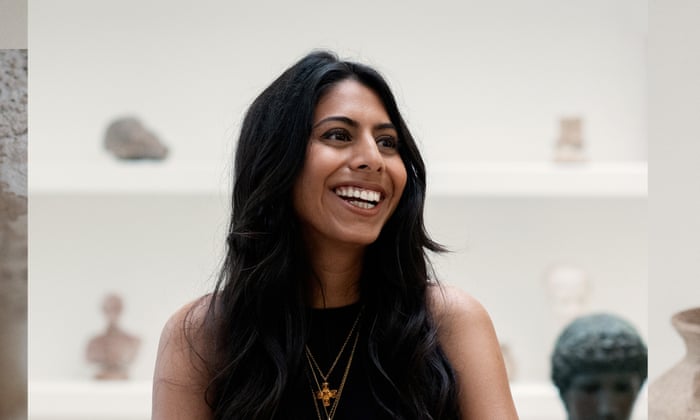 Jeweller Rosh Mahtani has a fascination with storytelling. Her quiet childhood, spent in a tiny Zambian town, led her to make up her own tales, mainly inspired by her mother's jewellery box. It was "magical" to look through, she says. Inspired, she would spend hours crafting rings out of sharp bits of wire, which she believed would bring her powers.
"Mum would always tell me that a ring was too sharp and I needed to take it off, but I was like: 'I need to wear it, it's bringing me special powers!'" she says.
As an adult, she says, little has changed, but she's swapped most of her make-believe stories for those of 14th-century poets, friends and the clients of her jewellery label, Alighieri – which she founded in 2014 after taking a £60 wax carving course in Hatton Garden, London's diamond district.
"It's seven and a half years old now, and we have 25 people on the team. It feels really mad," she laughs, before having to break off to take a call, explaining that as well as heading up the business and designing all of the collections, logistics are still very much part of her day to day.
The first in her family to go to university, Mahtani studied French and Italian at the University of Oxford. It was there that she discovered the works of the 14th-century Italian poet, Dante Alighieri, namely his Divine Comedy, and became obsessed with analysing every aspect of it.
"It's obviously an incredibly academic text," she says. "But what I loved about it was that I felt it was really just a story of a lost man." Fast forward to post-graduation, and Mahtani was feeling quite lost herself, going through a period she describes as being particularly rough.
While the half-day wax carving course she'd completed at Hatton Garden wasn't entirely what she'd envisaged – "it was all about precision and measurement" – something about the physicality of the craft struck a chord in her, and she began spending hours on end in her bedroom with nothing but a piece of wax and a couple of tools.
Once again, Dante crept into her mind, and soon, her pieces began to almost represent the physical aspects of his tales, and carving became a way of processing the elements of the stories and almost "breaking them apart".
"His stories felt like a safe space," she says. "I carried them everywhere I went and realised [while carving] that I wanted to replicate these craggy landscapes and feelings of things such as fear and courage into wearable pieces."
Her Infernal Storm collection, for example, made references to Dante's Paolo and Francesca through shapes that were made to feel as though they had been through an infernal storm themselves. This imperfect visual language has become Mahtani's signature and, in turn, synonymous with Alighieri – attracting a wealth of clients, who often bring with them stories from their own lives.
"I really see jewellery as a vehicle for human connection," Mahtani says. "It has been a way to create meaning for families and forge bonds with people since the beginning of time in every culture.
"Our pieces are sort of an invitation for the wearer to unlock their own personal journey," she says. "We create a piece that has a story behind it, and when someone buys it they then come back to us and tell us what they're going through in their lives. It's amazing."
For Mahtani, the process of making something is never about what the final product looks like, but instead is always about the process, the ritual and the journey it takes. But like many craftspeople (a term she struggles to define herself as, given her lack of "formal" training), she occasionally finds the external pressures to "create" difficult. With the speed of consumption constantly accelerating, she, like so many independent creatives, has had to contend with seeing her jewellery replicated by bigger companies.
But, she says, at some point you have to just stop caring so much and, seven years later, she's figured out a way to make it work for her.
"To create, I need to just be by myself, and know that I have hours to just be contemplative. My advice to others would be to stop trying to replicate the things you like – just go on your own journey.
"I honestly think that I wouldn't be here if I'd gone to jewellery school or art school, because I wouldn't have found the joy in it. And for me, the reason I do it is because of that joy of being free."
Like Mahtani, The Balvenie's craftspeople have been pouring their hearts into their craft for decades – which is why they launched The Makers Project; to champion the process of making and inspire more makers to pursue their art. Find out more here
Denial of responsibility!
News Continue is an automatic aggregator of the all world's media. In each content, the hyperlink to the primary source is specified. All trademarks belong to their rightful owners, all materials to their authors. If you are the owner of the content and do not want us to publish your materials, please contact us by email –
[email protected]
. The content will be deleted within 24 hours.