A stack of blocks teeters on the side of a busy road in Charlton, London, like a pile of shipping containers freshly offloaded from the nearby Thames. It is an arresting sight in this area of builders' merchants and big box retail stores, each block thrusting out above the one below as if the whole pile might topple any minute. A roadside facade of dark grey corrugated metal suggests it has an industrial function, while the ends of the blocks gleam with translucent polycarbonate, giving it the look of a rock that has been sliced open to reveal its sparkly crystal innards.
"We wanted to create an eye-catching beacon," says Michael Finlay, standing outside the new £5m Workstack. "It's a marker to say that space for making is here to stay – and we're not giving in to the march of developers and their luxury flats."
Finlay is the founding director of the Greenwich Enterprise Board, a not for profit provider of affordable workspace for small businesses in the area, which has been battling since the 1980s to retain a toehold for manufacturing against the relentless tide of residential development. The odds are stacked against it. Land with permission for housing can be four times more valuable than that for industrial use. So it's easy to see why landowners along the river are keen to cash in, and why the aspirational towers on the horizon are creeping ever closer, hawking their high-end waterside lifestyle concepts in between the concrete plants and asphalt depots.
"Huge swathes of workspace have been lost," says Finlay. "We feel like we're the ones with our finger in the dyke." An independent commission last year found that London had lost a quarter of its industrial floorspace over the last two decades – adding up to 6 million square metres, the equivalent of 840 football pitches. Much of this land was supposed to be protected for industrial use, but with ambitious housing targets to reach, planners have been all too happy to see it converted. The result is that the capital's thriving ecology of makers and manufacturers – the kinds of small businesses that need studios and workshops – is pushed ever further out, or banished altogether.
Workstack is a smart answer to the problem. By stacking the 14 units vertically, rather than housing them in the usual sprawling single-storey shed, they have a much smaller footprint, making the valuable land work harder. The staggered form also maximises the space up top: the studios are progressively cantilevered out as they rise from the compact base, which also helps to shade the floors below from the sun and provide a sheltered zone for deliveries. Designed by dRMM architects, and partly funded by the Mayor of London's Good Growth fund, it demonstrates how space for manufacturing could be eminently combined with a residential development – and make so-called "mixed use" mean more than just coffee shops and yoga studios.
"London is in danger of turning into a monoculture," says architect Alex de Rijke. "It always used to be a place of 'living above the shop', or the workshop, but it has become so atomised. We can imagine a version of this building that includes live-work too, as the units are designed to be adaptable."
Workstack is constructed from big sheets of cross-laminated timber (CLT), a material De Rijke has been championing since 2006, when dRMM designed a music and sports hall for Kingsdale school a few miles away. Here, it feels like walking around a supersized plywood model, with all the wooden walls and ceilings left exposed and dotted blue rubber covering the floors. The naturally ventilated units have big openable windows, while services are housed in simple metal trunking, with micro kitchens tucked inside free-standing cupboards. A large freight lift connects the floors, along with a metal mesh staircase – one of the few non-timber elements in the building, required for fire safety reasons. The resulting spaces are warm, quiet and a far cry from the draughty sheds that many of the tenants have worked in until now.
"Space like this is so rare to find in London," says Risa Sano, one half of Mentsen furniture design studio, which occupies one of the larger upstairs units. They have kitted out their space with a professional wood workshop on one side, where neat racks of Japanese carpentry tools line the walls, and a design studio on the other, where shelves brim with delicate paper maquettes of their furniture designs. "We were in a cold Victorian schoolhouse in Waterloo for seven years," she says, "then we got kicked out to make way for a big residential development. We moved somewhere else but immediately got pushed on by another development. We were searching for ages, but proper workshops tend to be too big and expensive, while smaller units tend to be offices, so they don't want noise and dust."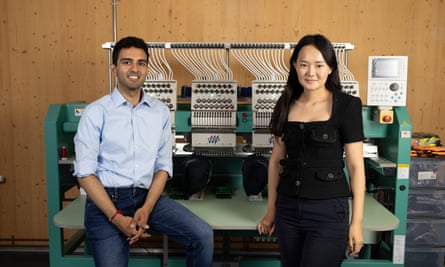 The duo had considered the nearby Greenwich Design District, a purpose-built creative quarter at the heart of a steroidal luxury housing enclave on the Greenwich peninsula, conceived by Hong Kong developer Knight Dragon. But they were quickly put off. "It felt really forced as a commercially-minded 'creative space'," says Yasuyuki Sakurai. "They offered us cheap rents initially, but the service charge would have been twice as much as the rent." Workstack units cost £19-£24 per sq ft, with a service charge of around £3.50 per sq ft – considerably less than similar properties in London.
On the floor below we find Healthy Bean, an unlikely named workwear and PPE distributor, busily embroidering the logos of a local authority on to navy sweatshirts using its whirring ranks of computerised embroidery machines.
"We were working remotely before," says co-founder Cindy Yao, "and we had a warehouse that we rarely visited. But here we can now do everything in-house, which gives us better lead times and quality control." They moved into Workstack in April and are already outgrowing their unit. "We're looking for a bigger space," says Dalwinder Uppal. "But the beauty of this building is that we can just move upstairs."
Down on the ground floor, where the building spills on to the street refreshingly free of the usual security fence of an industrial compound, Alex Tung is busy fiddling with a bicycle battery, surrounded by an assortment of electric bikes. His company, Besbike, converts regular push-bikes into electric-powered versions.
"I started off in a small space near Greenwich station," he says. "But being here gives me more capacity to store bikes, and being on the ground floor with a big roller shutter door makes it really easy to bring stock in and out." His garage-like space is one of the few to be made of painted blockwork walls, braced with a slender steel frame, forming a structural "table" on which the CLT structure stands – partly for the fire safety strategy, which was coordinated, along with the structure, by engineering giant Arup.
Since the recent rise of structural mass timber, with wooden high-rise buildings competing to win the "plyscraper" crown, some fire experts have expressed alarm that the boosterism of the industry might be overshadowing potential safety risks. Unlike steel or concrete, in a CLT building, the structure itself is a potential source of fuel, making it complex to predict how it will behave in the event of a fire.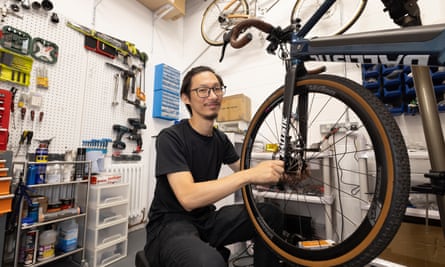 "Timber is a fantastic material," says Rory Hadden, a lecturer in fire investigation at the University of Edinburgh, "with benefits like low embodied carbon and better indoor air quality. But a lot of substantive issues are being swept under the carpet by the timber evangelists. I think we still need a lot more research before we start building complex buildings with CLT. You don't build with something when you're still trying to understand how it works."
Judith Schultz, fire safety engineer at Arup, agrees that there is much over-simplification in the industry, but assures that the Workstack project was engineered from first principles with the fire brigade, alongside Swiss consultancy Ignis. Particular focus was given to the panel connections and the details of doors and service penetrations, with all doors and walls designed to a 60-minute rating, and exposed CLT treated to control the surface spread of flame. "The crucial thing is that it all depends on the building's location and use," says Schultz. "Just because it's done a certain way here doesn't mean you can do it the same way elsewhere. You can't just apply current standards to complex buildings like this."
Finlay and De Rijke hope Workstack will serve as a proof of concept, opening people's eyes to what manufacturing space can look like. "Developers often say that industrial space is ugly and going to spoil their outlook," says Finlay. "But I think most local communities would be pleased to have something like this in their midst."
A sleek vertical hive of bike repairs, furniture making, clothing alteration and – soon to come – Korean food production sounds like a dream neighbour to me.
Denial of responsibility!
News Continue is an automatic aggregator of the all world's media. In each content, the hyperlink to the primary source is specified. All trademarks belong to their rightful owners, all materials to their authors. If you are the owner of the content and do not want us to publish your materials, please contact us by email –
[email protected]
. The content will be deleted within 24 hours.