Bhopal/Silwani/Budhni: Congress aayegi, khushhaali layegi — the opposition party's posters in Madhya Pradesh with this tagline show former chief minister Kamal Nath standing tall, mostly with no pictures of any other leaders. There are some posters featuring Rahul Gandhi, Priyanka Vadra and Mallikarjun Kharge, but they're shown on a much smaller scale than Nath.
The Bharatiya Janata Party's (BJP's) posters — with the tagline phir iss baar, Bhajapa sarkar — look very different, with a big picture of Prime Minister Narendra Modi towering over those of 11 other leaders, including the party's national president J.P. Nadda, Chief Minister Shivraj Singh Chouhan, Union minister Jyotiraditya Scindia and state president VD Sharma, among others.
As ThePrint travelled from Bhopal to Silwani Tuesday — making about a dozen pit stops along the 125-km stretch — the tall posters revealed the contrasting narratives, strategies and challenges of the two parties, as they vie for voters' trust and support. The state will go to the polls on 17 November, with the votes to be counted on 3 December.
The contrasting posters encapsulate the electoral discourse in the state. The BJP posters seem to convey that the party is not dependent on any single leader but has a diverse and representative team of leaders, "who can cater to different sections and regions of the society" as described by Hitesh Bajpai, Madhya Pradesh BJP spokesperson.
When it comes to what they want people to vote for, the parties' messages are quite similar. The Congress posters talk about providing 200 units of free power, Rs 1,500 per month to women and LPG cylinders for Rs 500, among other things.
And the BJP? "Betiyan ab bojh nahin, janma se banati hai lakhpati (Daughters are a burden no more, they bring prosperity since birth)," says a BJP poster with Modi standing tall with 11 party leaders in a group picture on the side. "Ladli behna ke bachchon ko paushtik ahaar, ab milenga Rs 3,000 (Nutritious food for the children of beloved sisters, now get Rs 3,000)," reads one more.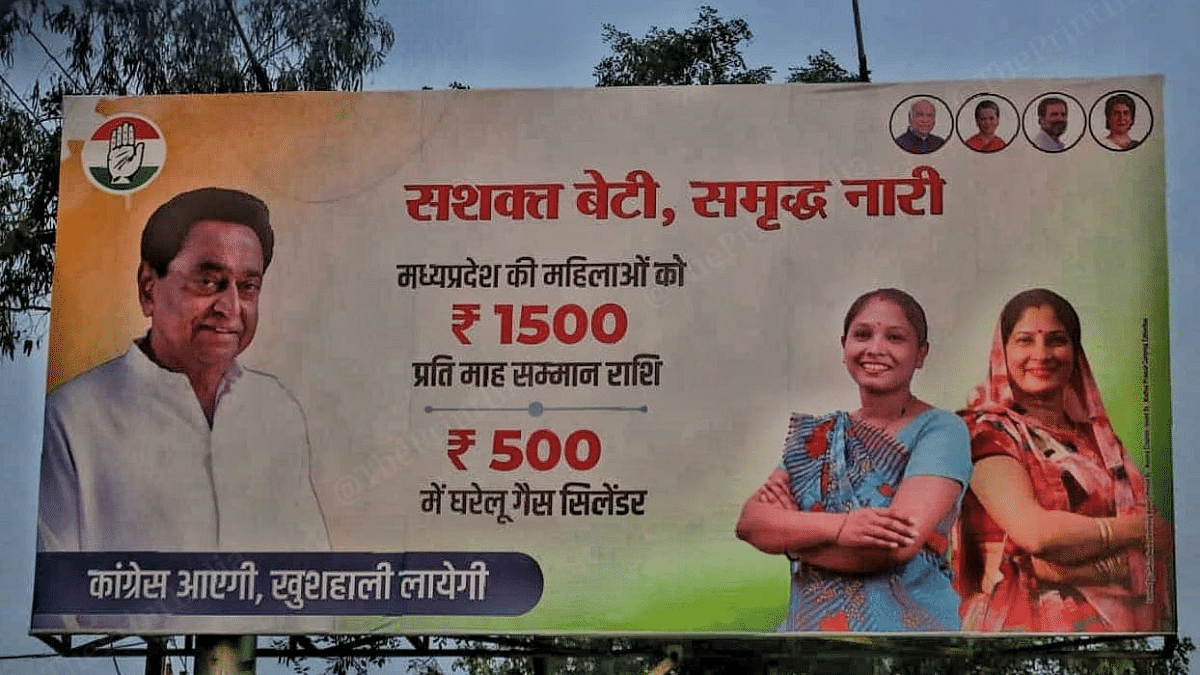 Both parties are obviously trying to woo voters with competitive populism, although the BJP has also sought to bring the Ayodhya Ram temple into the electoral discourse. "Bhavya Ram Mandir ban kar ho raha taiyaar, phir iss baar Bhajapa sarkar (the grand Ram temple is being built, once again, BJP government)," says one of the BJP posters.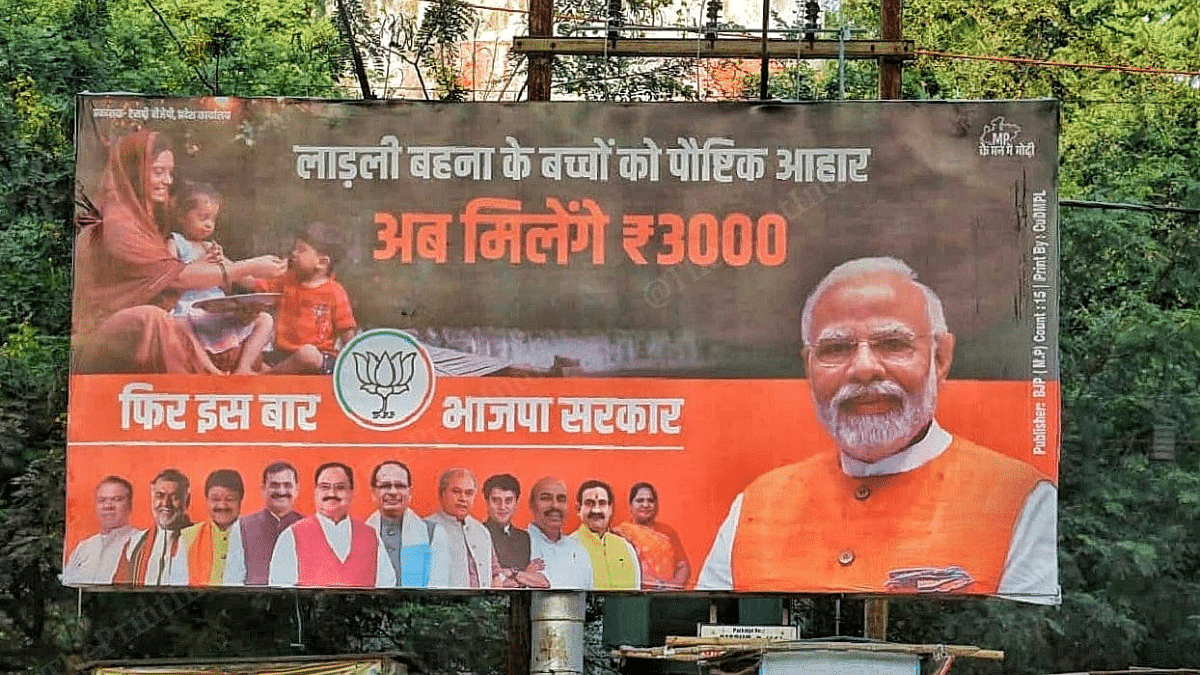 ---
Also Read: 'BJP doesn't own Ayodhya Ram temple', says Kamal Nath, denies playing 'soft Hindutva' in MP polls

---
Strategies and challenges 
What's curious about these posters is the way both the Congress and the BJP are trying to overcome what they believe are their weak points.
For instance, former chief minister Digvijaya Singh, who along with Nath has been spearheading the Congress' campaign, is completely missing from the party's posters.
This is because the BJP has often attacked the Congress for its record on governance and development during Singh's 10-year tenure as the chief minister from 1993 to 2003, a senior Congress functionary told ThePrint.
The BJP has nothing to say about the short tenure of Kamal Nath ji, the functionary said. "So, it's trying to look for an opportunity to focus on the previous tenure of the Congress (Singh's 10-year-long tenure) and the alleged failures in governance during that time."
"We are not going to fall into that trap. Our focus in this election is local issues and we are concentrating on that," the functionary asserted.
In the past three assembly elections —in 2008, 2013 and 2018 — the BJP had cornered the Congress citing potholes in roads, power cuts and lack of development during Singh's tenure as the chief minister.
It was Singh himself who decided not to be featured in the posters, said another functionary close to him. "I was the one to call Digvijaya Singh and ask him if he is comfortable with his posters put up on the hoarding for Jan Akrosh Yatra. He said 'no'," said the Congress leader.
Professor Yatindra Sisodia, director of the M.P. Institute of Social Science Research, (MPISSR) based in Ujjain, said the Congress's strategy of focussing on Nath was visible even in 2018, when Scindia and Nath were seen on official posters.
He added that the Congress feels that the BJP wants to make this election about 2003 vs 2023, so practically and strategically, the party doesn't want to give its opponents an opportunity to refer to Singh's tenure. "They don't want this to come into public parlance as the last few years of Digvijay's tenure had left a bitter taste in the public's mouth," he said.
"The BJP is trying to bring Digvijaya Singh into the campaign, but by not letting him appear on the posters, the Congress is trying to keep the conversation more on local issues."
He added that, as far as state leadership of the Congress is concerned, they have made it clear that Nath will be the CM.
The BJP posters, on the other hand, show a conscious attempt to downplay the role of Chouhan, who is one of the 11 leaders in the group pictures — in contrast to 2018, when he was the face of the party and slogans like 'Maaf karo Maharaj humare neta Shivraj' dotted the streets.
"We have a galaxy of leaders, and while elections are being fought under Chief Minister Shivraj Singh Chouhan, in the BJP, the decision regarding the chief minister is taken by the central leadership," said BJP spokesperson Bajpai.
According to him, the BJP's posters carrying pictures of various leaders represent "different sections of the society and different regions."
"We have a bouquet of leaders, unlike the Congress," he told ThePrint Wednesday.
According to Sisodia, "While the Congress has concentrated on one face, the BJP has made all the faces smaller by concentrating heavily on PM Modi and focussing on central leadership and collective leadership."
Also, there is a fatigue regarding Chouhan, he added. "The public is tired of seeing the same face. Though the anger for him is not there, the nail-biting finish of 2018 and almost 17-18 years of Chouhan's rule means that the BJP wants to give an impression that anyone can be the CM."
---
Also Read: Drinking water to 4G — Modi govt to launch Rs 15,000-cr mission for vulnerable tribal groups

---
Chouhan vs Nath
From Bhopal to Silwani, there were voices on the ground reflecting fatigue with the BJP, which has ruled the state since 2003, except for 15 months of the Congress-led government. Though there was no pronounced anger against Chouhan, some felt he had served for many years and a new face should be given a chance.
People approved of the BJP government's welfare schemes and also had words of praise for Chouhan, but the desire for change driven by the fatigue factor was unmistakable.
In Budhni, Chouhan's constituency, while the voters were confident that he would retain his seat, they were not quite sure of his return as the CM.
"There was a time when crossing this road in Budhni at night was considered a difficult task, but today, not only have the roads improved but the law-and-order situation has also become better. Shivraj ji has delivered, but in the last tenure he lost some of his sheen," said Hemraj Asre, a contractual labourer in Budhni.
According to Imrat Pandey, a 24-year-old from the Ichhawar constituency, it was now time for a change in leadership.
"He (Shivraj) has been the chief minister for over 17 years. It is about time someone else is given a chance. How long can one see the same face? A change in leadership will also bring in a change in governance," he said..
Madhu Sudan Dubey, a contractual labourer in Bhojpur, said, "Ek movie aayi thee jisme ek dialogue tha- Thakur tu toh giyo. Aaj Shivraj ji ka wahi haal hai – Mama toh giyo. BJP agar aayi, toh bhi woh CM nahi banenge (There was a movie in which there was a dialogue — Thakur, you are gone. Today Shivraj ji is in the same situation — Mama is gone. Even if BJP comes, he will not become the CM)."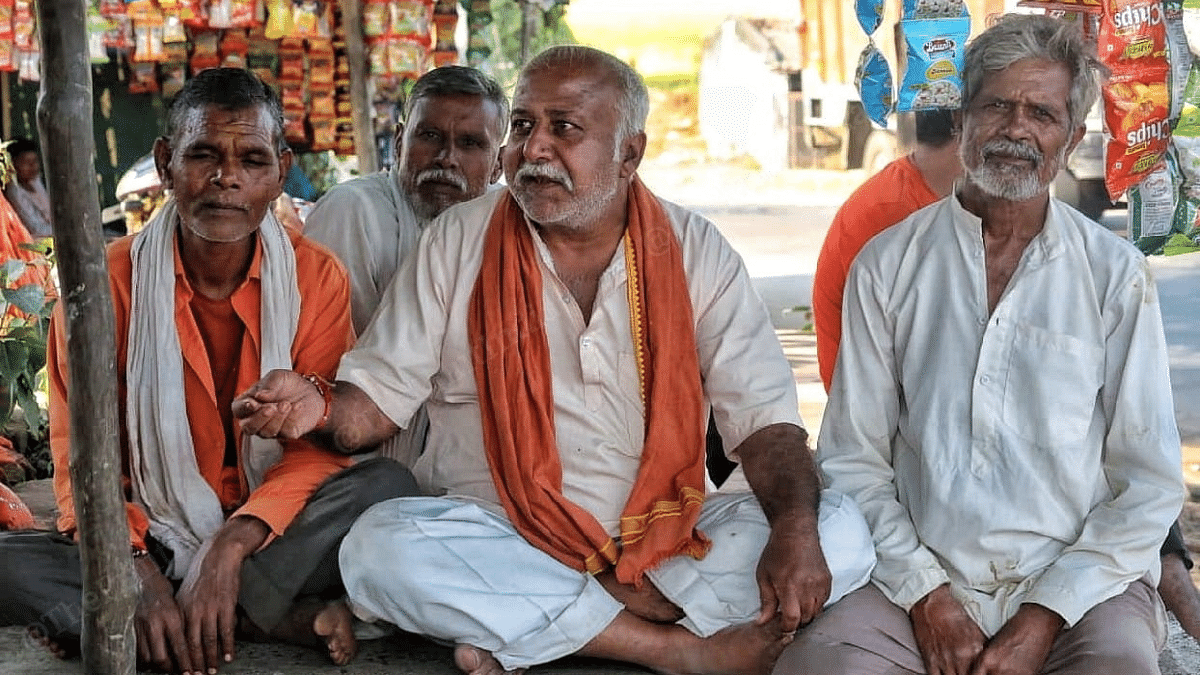 Dubey added that he had spent his savings on getting his children a good education, but despite this, they had been forced to work in a factory.
As for Kamal Nath, he seemed to enjoy a good image.
For Sumer Singh Panwar, a resident of Gautampur Jondra, under Obedullaganj town, elections are unpredictable.
Happy with Nath's tenure, he said, "Kamal Nath ki sarkar mai mera loan maaf hua tha. Unhone jo kahan wo kiya, saaf-suthari chhavi hai unki (My loan was waived during Kamal Nath's government. Whatever he did, he has a clean image.)
He went on to add that the BJP's performance was not so good, but there were still many days left for the elections. "Toh kuch bhi ho sakta hai (so anything can happen), he added.
There are also many who claim this election is a 'mushkil ka maidan' (a difficult field). "Kamal Nath ji needs to connect with the public more. He comes for campaigning and goes away rather than interacting with the people. But yes, his image is good," said Himrat Lal, another resident of Agra, a village in Budhni.
(Edited by Richa Mishra)
---
Also Read: 'Should I be CM or not?' — Chouhan indulges voters with 'apolitical chat', Nath terms it 'frustration'

---
Denial of responsibility!
News Continue is an automatic aggregator of the all world's media. In each content, the hyperlink to the primary source is specified. All trademarks belong to their rightful owners, all materials to their authors. If you are the owner of the content and do not want us to publish your materials, please contact us by email –
[email protected]
. The content will be deleted within 24 hours.