While the escalating unrest may force some of the biggest retail names to quit or downsize in the city, other brands may cash in on the low rents available to enter the local or Chinese mainland markets. Pamela Lin reports.
It's never been so bad. Some see it as having dwarfed even the SARS epidemic of 2003 or the global financial rout in 2008 in terms of the accruing economic impact on Hong Kong.
Some of the biggest names in the global retail scene that have sunk their roots in Hong Kong in the past decade or so have been forced to pull down the shutters, relocate or bite the bullet until the good times return, as the city's unprecedented social unrest continues unabated. To them, Asia's shopping mecca may have lost its shine.
Hong Kong is in a recession for the first time in 11 years. Its GDP has seen its steepest fall on a quarterly basis as tourists, notably from the Chinese mainland, who make up the bulk of total visitor arrivals, stay away. The biggest losers have been the hotel, retail and food-and-beverage sectors that had been the chief beneficiaries in the city's heyday.
For eight consecutive months ending September this year, the value of Hong Kong's total retail sales had shrunk, brought about by a combination of the protracted anti-government protests, simmering Sino-US trade frictions, the global economic slowdown and a weakening yuan.
The violence that has now become an almost weekly affair since mid-June has turned some of Hong Kong's most popular upmarket shopping malls into "ghost malls" as shops stay shut.
Festival Walk shopping center, adjacent to the City University of Hong Kong, was repeatedly trashed by protesters earlier this month. A huge Christmas tree erected in the mall was set ablaze by radicals and several shops were smashed. The popular mall said it will stay shut for repairs and maintenance work until further notice.
Tourists, particularly those from the mainland, have turned their backs on the city. In the first half of October, total visitor arrivals went into a free fall – down by about 50 percent. August and September – the traditional peak tourist season – saw a more than 30 percent tumble year-on-year.
French cosmetics colossus L'Occitane said its same-store sales in Hong Kong plummeted 19 percent from March to September, pointing its finger at the ongoing protests and the US-China trade spat. However, it said the impact was cushioned by higher travel retail sales in the region, particularly on the Chinese mainland.
British luxury fashion house Burberry saw a double-digit decline in sales in Hong Kong for 26 weeks ending Sept 28. The retailer expects its Hong Kong business to remain under pressure in the second half of this year.
Retailers give up leases
Switzerland-based luxury goods retailer Richemont, which owns high-end brands like Cartier and IWC, also felt the pinch, saying its sales in the SAR declined in July due to the relative strength of the Hong Kong dollar and the violent street demonstrations.
While some renowned world retailers prefer to wait and see while engaging local customers or covering losses with sales in other regions and online platforms, brands like Italian fashion house Prada and Hong Kong cosmetics chain Bonjour have chosen to quit Russell Street in Causeway Bay – dubbed the world's most expensive shopping street because of its astronomical rents.
In October, Chinese fashion brand MO&Co decided to shut down all its 14 stores in Hong Kong, blaming Hong Kong's escalating social woes and global economic uncertainties.
According to property consultancy CBRE, some local pharmacies, large food-and-beverage outlets have also abandoned leases recently.
Global property service provider Savills also noted other enterprises giving up their operations as they run out of money or decide not to renew their leases in prime shopping districts after they expire, with Causeway Bay high up the casualty list.
The last time the retail industry was battered was starting from "Occupy Central" campaign.
"You may refer to the 2014 'Occupy Central' movement, and it took the market almost three years to fully recover," recalled Lawrence Wan, senior director of advisory & transaction services, and retail at CBRE.
He said it would depend largely on government policies and measures to help the market out of the woods.
Commercial rents for shops in some of Hong Kong's prime shopping districts dived by 50 to 60 percent from 2014 to 2016, noted Nicholas Bradstreet, managing director, head of leasing at Savills. It wasn't until 2017 that retail revenues began picking up, he added.
In his view, Hong Kong is quite resilient but the question is how long it would take for the market to fully recover. Bradstreet expects the market is unlikely to improve until the second half of next year at the earliest.
"Christmas and Chinese New Year are round the corner, so I think there's a bit positive, bright spot on the horizon," said Bradstreet.
Michael Cheng, PwC's Asia Pacific, Chinese mainland and Hong Kong Consumer Markets Leader, told China Daily his clients are very concerned about the future. "The only thing they think they can do is to ask landlords to reduce rents and offer them subsidies to help them pull through," he said.
However, mall landlords are less forgiving and tend to stay on the fence, according to Savills, while street shop landlords are offering ad hoc relief in the form of 15 to 20 percent rent cuts for three months or, occasionally, longer.
Bradstreet said landlords are practical as they would adjust rentals further if more shops stay vacant. Besides, they have the options of setting up pop-up stores and offering short-term leases.
"We can expect rental adjustments which will allow the retail market to become more sustainable than what we had experienced in the past few years, whereby rents were at very high levels," said Wan.
Hong Kong's social unrest, coupled with external uncertainties, have forced the retail industry to revise market strategies in the region and mete out ways of riding out the storm.
Retailers have already started trimming costs, cutting down stores numbers and making other adjustments. "Several brands are reassessing Hong Kong's long-term role in their retail network and reviewing how many stores they really need in this market," said Pascal Martin, partner at OC&C Strategy Consultants – a global consulting firm with its main focus on Asia's consumer goods, retail and leisure sectors.
Two vital factors continue to haunt retailers, according to Martin. On one hand, they are wondering how low the inflow of mainland tourists will remain in the future. On the other, they're worried whether Chinese mainland tourists would continue to shop in Hong Kong if local prices are not as attractive as they used to be.
But, to live through the crisis and adjust the market strategy, retailers are coming up with various tactics to compensate for the sales they had missed out on due to the city's violent protests.
Martin said leveraging e-commerce channels is one option, while Cheng said some of their clients are focusing on how to digitize the business and engage customers through social media and messaging apps.
Richemont announced a joint venture with e-commerce giant Alibaba in September to present more than 130 brands through the latter's Tmall e-commerce site on Richemont's Net-a-Porter flagship store to extend its market strategy further online.
Opportunity amid unrest
The protests may have dented local consumer shopping sentiment in brick-and-mortar stores, but not online. Hong Kong's online shopping platform HKTVmall said its third quarter ending September saw an almost 39 percent surge year-on-year in gross merchandise value to HK$697 million ($89 million).
L'Occitane said it will stay agile with its marketing investments and focus on local clients through sound customer relationship management and cost-effective measures.
Can Hong Kong still attract global brands? Perhaps it's not the best time for retailers to expand in Hong Kong, but for new players who see China as a new market with copious opportunities, analysts said.
"Hong Kong's high rentals have been the biggest barrier for overseas businesses to set up shop in the city, and now, with the rental adjustments, they can take advantage of them and explore the market opportunities," Wan said.
"Hong Kong has always been a landlord market but things are changing. There're opportunities for new brands to come in to get good deals when the rents are soft," said Bradstreet, adding that US coffee brand Blue Bottle Coffee is planning to make its debut in Hong Kong.
Some retailers see the current market correction as a rare opportunity to return to the high street, according to Kevin Lam, executive director and head of retail services Hong Kong at Cushman & Wakefield. The property manager expected some adjustments in retail trade mix.
In particular, trades focusing on mass-market demand and local consumption, such as the education, lifestyle and sports or athleisure sectors, will fare better in the current environment, according to Cushman & Wakefield.
"We see a number of such retailers cautiously scouring opportunities to expand or seeking a better rental package," said Lam.
Before the unrest broke out in mid-June, Hong Kong was seen as the springboard to the Chinese mainland, and Western brands used the city to connect their brands with mainland customers, Cheng said.
But if Hong Kong is losing the advantages, either in pricing or safety, global brands may consider tapping the mainland market directly, he warned.
Martin remains optimistic, saying Hong Kong is resilient enough and will bounce back.
To mainland visitors, Hong Kong is very convenient and accessible, with great food and entertainment.
"And the city remains an amazing shopping destination in terms of the breadth of offerings and convenience."
Contact the writer at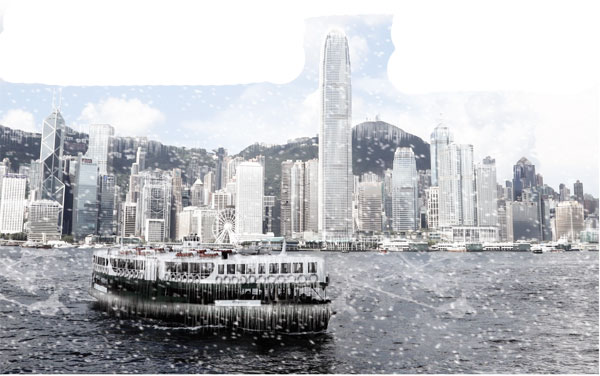 (HK Edition 11/22/2019 page9)
Denial of responsibility!
News Continue is an automatic aggregator of the all world's media. In each content, the hyperlink to the primary source is specified. All trademarks belong to their rightful owners, all materials to their authors. If you are the owner of the content and do not want us to publish your materials, please contact us by email –
[email protected]
. The content will be deleted within 24 hours.